Automation Helps Vodafone Manage ROI Globally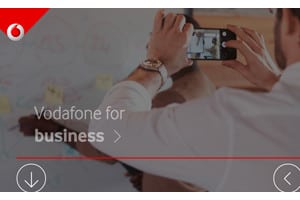 Understanding your long- and short-term objectives is key when making marketing technology investments, says Joan Dowling, senior marketing communications manager, Vodafone Global Enterprise.
"Look at your objectives and evaluate vendors accordingly," she said at B2B LeadsCon 2016. "Can the tool do what you want and integrate with your other existing tools? You want to avoid silos."
Telecommunications firm Vodafone had to do this recently when it needed to acquire a marketing automation tool to manage a new customer experience center for its American operations. The company is in the unique position of being an enormous presence in Europe, but still operating as a start up in North America, Dowling noted.
The company ended up choosing Briefing Edge as a program management solution, to help schedule appointments and understand the ROI of those visits. The fact that it could integrate seamlessly with Salesforce was a significant deciding factor, she said.
"We're in a start-up environment here, but we have access to our corporate headquarters in the U.K. so we always check with them to see what other tools are available and avoid redundancies," Dowling noted. "We want to make sure the tools we are using might be of benefit to them as well, so we can avoid redundancies."
When making a technology purchase, think about your overall strategy, your automation needs and anything digital, she said. Consider security issues and talk to IT about compatibility issues. How mature the tool you are investing in is also a factor to consider, as are how many customers are currently using the solution. Storage needs should also be weighed—will data live on the vendor's servers or your own? And, if you should decide to switch to another vendor at some point, will you be able to have easy access to the data—in a usable format—when you jump?
When it considered Briefing Edge, Vodafone knew that it might use the solution differently than other companies. The fact that they could pay a flat fee upfront and then customize it to add additional functionality was appealing. Vodafone has four or five different types of users that require different levels of access to the tool, and different data fields can be customized for different needs.
Related Articles:
What Springsteen Knew About Marketing Automation
Key Questions to Ask Before Buying a New CMS
5 Tips For Getting More Out of Marketing Automation
Adapting to the Marketing Automation Evolution