Striking Gold in B2B Lead Generation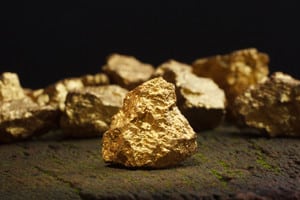 In B2B lead generation, we're all looking for gold. Picture John Sutter in January 1848, building the foundation for a lumber- and agriculture-based empire in the valleys of California's Sierra Nevada Mountains, when engineer James Marshall, who was working at his lumber mill, notices this flaky gold stuff in the river bed. Sutter did not think much of the find and tried to stifle news of it, fearing that gold speculators could destroy the plans he had for the valley region.
Even though news of the find was revealed shortly thereafter, it would take nine months for the New York Herald to report it and would take President James Polk another three months to confirm the find to congress; at which time the entire world understood that- "there was gold in them thar hills."
In the world of enterprise B2B demand generation, the relationship between sales and marketing is often fractious. This is partially driven by the fact that sales organizations have been promised golden leads that will be easy to close, only to reject 30 to 40% of those they receive out of hand, either because buyer intent was not really there or the projected value of a deal would not be up to snuff. Sales then complains that they have to do the job of marketing – discovering leads with intent. Marketing, in turn, complains that sales wants them to provide not just leads, but deals ready for signature.
The reality is that for many years, enterprise-level B2B marketing organizations have struggled to deliver the golden leads that would reduce time and waste in sales' opportunity management processes. Early efforts at modeling explicit contact demographics and bizographics, combined with self-reported budget, authority, needs, and timeline (BANT) factors, proved ineffectual for creating the leads that sales craved (i.e., prospects with intent). As lead scoring capabilities improved, marketers added implicit data based on email and nurture campaign interaction, combined with a prospect's site behavior; This resulted in a more scientific approach to lead qualification, but the outcomes lacked the gold strike that sales was panning for.
In their defense, marketers had gone above and beyond, as enterprise B2B engagements simply did not create the rich and daily transaction data that would provide significantly better targeting. As two to four percent response/conversion rates became the hallmark of a campaign well done, they were satisfied. The problem was that, at best, the four percent mark meant that 96% of their targets rejected offers because prospects did not like doing business with that company, rejected their products, or were just not in the market for their solutions. Thus, enterprise-level sales cycles continued to lengthen, return on marketing investment (ROMI) for demand generation was flat or declining, and sales continued to lose faith in their marketing colleagues across the hall.
What enterprise sales organizations knew, and what their counterparts in marketing failed to appreciate, was that the issue was not as much about marketing with precision to company and contact look-alikes, but rather, marketing to companies and contacts who were ready to buy. On an enterprise basis, where there are a limited number of companies to go after, sales organizations felt that marketing was not providing much more than what they already had. Once industry vertical targets were established, sales did not value marketing's re-creation of individual contact/target lists. As targeting models got more complex, marketers thought they had successfully mined customer "intent" gold and found the mother lode, but what they had actually discovered was like high-grade pyrite, or fool's gold.
Eureka! In the past few years, the predictive analytics industry, led by companies such as 6Sense, Mintigo, and Lattice, are not just laying claim to buyer intent, they are delivering it. By tagging individuals and target cohorts on an account basis and following the group's behavior at target page categories across the internet, predicative analytics companies can now deliver intent, thereby bringing opportunity management and account-based marketing/selling to a new level.
No pyrite here — this is real gold. For example, predictive analytics can tell you:
Your target prospect companies, for whom there has been no recent marketing or sales outreach, are now active on your site and looking at specific categories of content at "Y" volume, "Z" velocity.
Your target prospects are now looking at the same categories of content at your competitors' sites at "Y" volume, "Z" velocity.;
Your current best accounts are now looking at your competitor's site for the same categories of products that you currently sell them.
Here is a list of your target companies who are now engaging with your competitors for the specific products and solutions that you sell, but are not looking to buy these solutions from you.
The implications for customer acquisition and customer retention are huge. Intent is now within the grasp of marketing and sales. They should not squander it.
These applications can dramatically improve the effectiveness of your telemarketing qualification processes, and can help you rank-order priorities for opportunity management, thereby improving ROMI. Some applications provide priority scores, some predict deal size, and others identify data that can be used to segment nurture communications based on interest and intent. Almost all of these integrate with the major sales force automation technologies
When programmatic marketing consultants talk about the essence of "right message, right target, and right place," they are going to have to add "right time." From an enterprise B2B perspective, if marketing could provide their sales colleagues with leads that looked like their best customers and could demonstrate the intent to buy now, this type of lead would be considered the ultimate, ideal lead, and would be comparable to striking gold.
Don't pull a John Sutter; start mining, start selling, and get there now, before someone else stakes a claim to your opportunity.
James Vander Putten is senior director of channel optimization at Merkle.