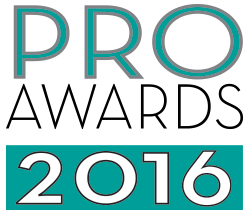 Campaign: The Made in USA Craftsmanship Tour
Brand: New Balance
Agency: Pierce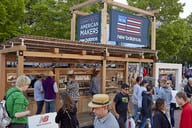 To remind consumers that it's the only major company to make or assemble more than 4 million pairs of athletic footwear each year in the USA, New Balance put the rubber to the road: It took a modular brand experience to seven key domestic markets during a three-week period in summer 2015.
With agency Pierce, New Balance created a structure that expanded to 17 feet high and 40 feet long. All possible set elements, from the cedar supports to the metal roof, were made in the United States, in keeping with the promotion's theme. The venues it stopped at were also celebrations of America, Americana, and American ingenuity, such as Milwaukee's Summerfest over July 4 weekend, the Manayunk Arts Festival in Philadelphia, and Washington's DC BBQ Battle.
The footprint included a collection of vintage New Balance shoes, framed ads featuring American New Balance employees, and merchandise displays. Attendees could win custom-made suede key chains made from excess shoe material and watch the material being imprinted; using the provided iPads, they could also visit the brand's website to design (and buy) customized footwear. An artist traveling with the tour created custom posters for each locale, giving guests their choice of image and soy-based ink colors and letting them watch the screen-printing process. And at the Boston Calling music festival, a local artist painted, in front of an admiring crowd, an American flag onto canvas using only paint tubes—no brushes.
All the fancy footwork involved in getting and keeping the show on the road paid off. By the time the tour crossed the finish line it had generated 430,000 visual impressions, 774,000 digital impressions, and 52,000 personal interactions.