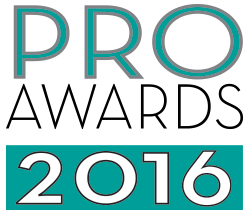 Campaign: Journey to Super Bowl 50
Brand: Courtyard Marriott
Agency: IMG LIVE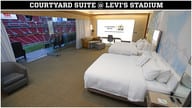 The chance to spend the night in a football stadium: That seems like a counterintuitive prize for a sweepstakes run by a hotel chain. But this was no ordinary evening—it was the night before Super Bowl 50; the venue was Levi's Stadium in San Francisco, where the Big Game was to be held; and Courtyard Marriott, along with agency IMG LIVE and the NFL, designed a stadium suite to be an exact replica of a Courtyard hotel room—save for the view of the gridiron right outside the window.
The Journey to Super Bowl 50 campaign started during the regular football season with a road trip to eight stadiums. A customized Courtyard vehicle engaged attendees with an enhanced tailgating experience that included a trivia game where fans could win swag bags; a branded Selfie Mirror that enabled fans to share pictures of themselves via social media; a 40-Character Dash competition, in which participants raced to text a message with just their feet; and of course promotion of the contest to spend Super Bowl eve at Levi's Stadium.
Online, Courtyard set up a "submission booth" where fans could submit video entries (they could also enter via Twitter or Instagram) in which they responded to a particular challenge posted by Courtyard each week. The winner was selected by an online fan vote.
The grand prize encompassed more than merely spending the night in a mock Courtyard suite at Levi's Stadium. The winner received tickets to the game and was invited to the Courtyard VIP party, where he and his guest met NFL vets including Tony Romo and Steve Young. Another NFL great, Tony Gonzalez, welcomed them to their suite, and Raiders quarterback Derek Carr surprised them with breakfast in bed on game day.
The campaign scored a touchdown when it came to heightening awareness of Courtyard Marriott as the official hotel of the NFL and Super Bowl 50. The eight tailgate events resulted in 231,475 fan interactions and nearly 2.4 million social impressions, while the stadium suite contest generated 56.9 million social impressions and 364 million PR impressions. Clearly the Denver Broncos weren't the only winners of Super Bowl 50.

Other winners in this category:
Silver Best Use of Event or Experiential Marketing (Five or More Venues): Pierce New Balance The Made in USA Craftsmanship Tour
Bronze Best Use of Event or Experiential Marketing (Five or More Venues): OMD Gatorade Bryce Harper Virtual Reality Experience