Nike Uses Content Marketing Videos for Internal Communications
Internal branding is a growing use of content marketing videos as a way for brands to communicate any number of topics, news or other information to employees in an engaging way, including relaying the excitement of live consumer events that the vast majority of employees never get a chance to participate in.
Nike runs dozens of sports training camps for young people each year around lacrosse, soccer, basketball, tennis and other sports, often having recap videos produced at each event to use for internal communications.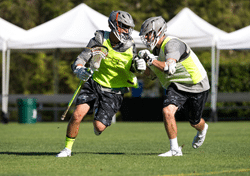 Last July, promotion agency MKTG conceived, created and executed the "Nike the Ride" sports training camp around Nike's line of products for the lacrosse sports category. One hundred top high school athletes from across the country were invited to the training competition, held at Nike's world headquarters in Beaverton, OR. Video played a role in who was lucky enough to attend. Athletes submitted 60-second videos, viewed by Nike Lacrosse, who then invited those boys and girls that made the cut.
"Lacrosse is the No. 1 rising college sport and Nike wants to be a part of something on the rise," says Ryan Beickert, senior video producer, MKTG. "They know the necessity to get in early."
At the three-day intensive camp, Nike Lacrosse gear was available for the athletes to try on or purchase.
For three days, MKTG led production of the video shoot to tell the story of the event's activities and excitement and new product line to be shared internally within Nike employees who did not attend the event themselves. A local crew from Portland was hired with expertise in shooting sports documentary content.
The camp was held July 19-22 and by July 24 the recap video was hosted on a password-gated site and Nike emailed news of the video out.
"The turn around is quick because the excitement of the live experience yields the desire to share the video," Beickert says. "There needs to be a response in a time frame that is still relevant."
"It was a wonderful experience for these kids and the people directly involved," he says. "Other than external communications coming from the kids' experiences, the intent of the video is to get the internal community excited about what they can do in this category and how it can affect the consumer in a personal way."
MKTG produces recap videos for internal communications for most Nike live events that it executes, as well as events for other clients. "We recommend it to everyone of our clients because of how powerful it can be," Beickert says. "These internal videos follow the same rules of external video content: a concise strong story and a balance of entertainment and information. The internal audience is just as important as external audiences.
** You may also find the Video Goes Viral Special Report of interest. It includes case studies from Marriott and Northwestern mutual, among others, as well as tips and best practices for content video marketing.