Generating mass reach through video is an important goal for most marketers. However, a shift is underway in how that goal is achieved—from channel distribution strategies to great storytelling. You can post videos on Facebook, twitter, homepages or other channels, but if the content isn't grounded in a great idea and stuffed with engaging, relevant, meaningful and valuable content, it will fizzle fast.
In this special report, you will learn:
Top strategies for storytelling through content videos
Where top brands post their videos
7 Benefits of B2B (and B2C) video marketing
Case studies from Nike, Northwestern Mutual, Marriott
And more!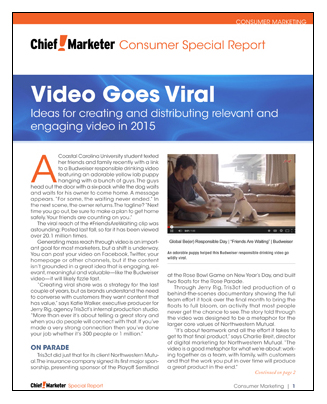 Thank you for downloading this report.
You may also find these articles of interest.