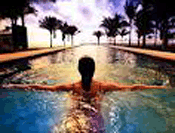 Would you give up your spouse just to keep your status in a loyalty hotel program? Would you choose your hotel loyalty card over your wife if you had to pick just one thing to travel with? If you're married, you may not like the answers. Some 73% of frequent travelers said "they would" to both questions.
The report, from the Starwood Preferred Guest program, only got worse for the sanctity of marriage. Some 70% of these frequent travelers said these relationships with hotel loyalty programs might even outlive marital unions or even their current jobs (no surprise there considering our economy). That there elite status would be more important than even their smartphones, tablets or even personal assistants in a travel emergency. And these travelers said they would outright lie to get an upgrade, like saying they were on their "honeymoon."
Could Starwood be so spoiling these frequent travelers that life in a cushy hotel, being waited on hand and foot, with anything and everything available at the touch of "0" on the room phone be so much more alluring than pulling apart screaming kids, washing dishes and fending off exhaustion?
I guess so.