John Oliver Goes off on Chiitan, the Rogue Pole Dancing Unofficial Japanese Mascot
Brand ambassadors are an important part of any company's overall attitude and character. They bring good will, attention and fun for the brand. But they must behave.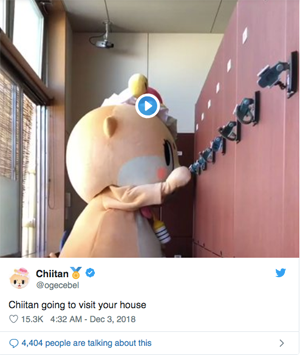 In the Japanese city of Susaki, an otter was chosen as an honorary tourism ambassador. The cutie, who wears a noodle bowl as a hat, has a large social media following that enjoyed keeping an eye on him. So too did an unsanctioned mascot, who officials said is based on the otter. He calls himself  Chiitan, based on a real-otter that was the original Susaki mascot—and began running around the city staging stunts that would have any respectable ambassador fired. He is seen swinging a weed whacker, tipping over cars and—going even darker—suggested he was "coming to your house" with a baseball bat, the New York Times reported.
People began to confuse Chiitan, who wears a turtle as a hat, and the official mascot Shinjokun. Calls to the city began and the city responded by declining to renew Shinjokun's contract. That caused a stir on social when people began to post about the official mascot being "fired."
One of many Japanese city's goals with an official mascots is to raise money for the city through a program that lets Japanese citizens donate tax payments to the municipalities of their choice, the NYT said. And, that can add up to big bucks.
---
Other articles you might enjoy:
---
Takashi Moritoki, a Susaki city official, told the Times, "Shinjokun and other authorized city mascots were doing just fine at fund-raising. Shinjokun, for which the city owns a copyright, was created in 2013; Mr. Moritoki said Susaki's tax donations rose to the equivalent of nearly $11 million in 2018 from around $18,000 in 2015," the Times said.
That raised concerns that the rogue Chiitan may be earning money that could have gone to the city, which is now consulting an attorney.
In Japan, mascots are appointed to promote particular cities or regions with mixed results. In Funabashi City, the unofficial mascot spinoff Funassyi has been credited with drawing more tourists, the NYT said.
Shinjokun's plight touched a nerve far beyond Japan. Last Week Tonight Show Host John Oliver got in the mix with a YouTube report "of some "high-end nonsense": a hilarious and weirdly poignant report on the saga of Japanese otter mascot Chiitan," Rolling Stone reported.  Chiitan is not happy with the coverage—he has been calling Oliver out on Twitter, challenging him to a fight … to be continued.