For Hobart, Mobile is a Key Ingredient for Reaching Food Service Pros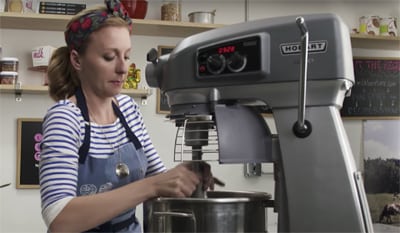 People like to eat on the move, and the professionals who prepare that food are no less active. For Hobart Corp., that means mobile and social are essential channels for connecting with B2B customers and prospects.
The food industry audience is active in social media, making it a great platform for engaging with them with both internally generated and third-party content.
"Twitter presents real-time opportunities for meaningful engagement," says Todd Blair, director of brand marketing at ITW Food Equipment Group, the parent company of Hobart, Traulsen, Baxter and numerous other leading brands serving the food service industry. He notes that that mobile in particular is where people are doing research for both B2B and B2C purchases. "It's easy and there can be an immediate two-way dialogue, where you can build a personal relationship between the brand and end-users."
The company's target audience is comprised if commercial and institutional restaurants in hotels, universities, stadiums, military facilities and hospitals, as well as not-for-profits like food pantries and community kitchens. It also serves retail businesses like delis, supermarkets and bakeries.
For the most part, products are sold through distributors and a broad dealer network. The sales department is primarily geared for supporting end user customers, although the company does sell directly to its largest accounts of global chain restaurants.
"It's a customer service play for our sales team—they answer end users' questions, help them understand what they need, and then funnel them to the distributors [to make the purchase]," says Blair.
---
More on Mobile Marketing:
---
More and more, social and mobile are becoming the channels they're using to do research and connect with vendors. Everything Hobart does online is designed for mobile, an imperative given that 50 percent of its website usage is via mobile devices.
The Hobart Spotlight app features interactive models of the brand's equipment. Rolled out over the last 18-months, it is available to customers and prospects, as well as the sales team. Users view brochures, spec sheets and videos and animated models of professional kitchen equipment. Animated models allow users to click on features and see a demonstration of it in action.
"Our sales folks like it because it allows them to show customers [what we offer] and interact with them," he says.
For the future, Blair says he'd like to add information about all of Hobart's products on the app, and make it more interactive. Augmented reality additions could allow customers to envision what equipment would look like in their kitchen, and get a better idea of how it would fit in their facility. Cost calculators to help managers budget for purchases are also in the plan for the future.
ROI of the app is gauged on a number of factors. "The mobile app is all about engagement for us—we look at downloads, and we build in opportunities for conversion and form submission," Blair says. "Once they start communicating with us, the marketing automation kicks in and we can connect [the interaction] to the source."
The sales cycle for Hobart depends on the customer's needs and the size of the customer. For a one-off need, such as a neighborhood bakery needing a new food processor or oven, the purchase cycle is immediate. A national or global account looking to outfit numerous locations might mean a year. Large pieces of equipment, like conveyor dishwashers custom built for specific facilities, also take longer, because the item isn't sold out of the box.
When marketing to resellers, the play for sales people is primarily keeping them informed about new equipment or offering training and advice. "We hold webinars and make collateral and equipment available," Blair says. "It's a lot of blocking and tackling. Our biggest challenge is [connecting with] end users, because we support so many industries and everyone buys differently."
For an independent restaurant, the relationship between the owner and a sales rep can be personal. The food services director of a K-12 school district faces dealing with purchasing and funding requirements from their town or county, while government sales face the most red tape. Dedicated sales reps focus solely on understanding government requirements.
"We need to figure out who these people are and what they care about, and what channels they communicate in," he says.
Marketing in the food service industry is still very much centered around trade shows, and mobile and social are used to create engagement before, during and after events with design consultants, architects and distributors.
On Hobart's Facebook account during the National Restaurant Association Show this spring, video posts walked followers through the show floor display of commercial restaurant and institutional facility kitchen equipment. Other posts showcased demos of new ovens and other appliances, inviting attendees to come to the booth to see it live and in person.
Social, which is managed by the core marketing team at Hobart, is also becoming a significant channel for customer service. "A lot of engagement happens in social channels. We find that more and more frequently, people aren't calling us or submitting questions via web forms," he says. "They're asking questions on social—it's become a great customer service channel for us, and a place for us to help identify areas where we can [improve] and solve problems."