Hiscox Debuts Barcode Campaign to Target Small Businesses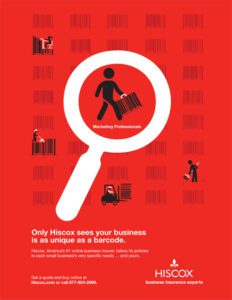 Hiscox launched a new campaign this week designed to highlight the unique insurance needs of small businesses.
The Barcode campaign is an extension of Hiscox's Encourage Courage brand platform. The concept is that like barcodes, small businesses can look alike to those not looking closely.
"To the untrained eye, small businesses can look similar and they get treated similarly by B2B suppliers," says Russ Findlay, CMO at Hiscox USA. "We take a different approach. We recognize that small businesses, even in the same industry, are unique. They go to market differently."
Thus, he says, a "one-size-fits-all" mentality just doesn't work.
"Small businesses don't fit into any one set mold and neither do their needs. This campaign celebrates their individuality and courage," says Findlay.
Hiscox offers small businesses the ability to purchase insurance direct online, and specializes in policies customized for different fields such as including IT, consulting, marketing, photography, real estate, beauty and health. Creative for the Barcode campaign is featured on the Hiscox.com home page, with the tagline "Insurance Tailored to Your Specific Business Needs," and a call to action to request a quote.
The campaign—Hiscox's first fully integrated campaign in the US—will include TV; print; digital; social on Facebook, Twitter and Instagram; and sponsorships with National Public Radio, The Wall Street Journal and Entrepreneur. Partnerships with Major League Baseball and ABC will include content distribution through their network and digital properties, as well as custom content.
---
You May Also Enjoy:
---
"The premise is that without a deep understanding of small business, all small businesses can look the same and are offered very general, often ill-fitting, insurance coverage," notes Kash Sree, executive director at gyro, Hiscox's agency of record. "They're a bit like barcodes that can all look alike, unless you have a better understanding of their nuances, which enables you to see how they are truly very different."
While the Barcode campaign is primarily targeting new prospects for Hiscox, some of the creative may carry through to communications to existing customers. ROI will be gauged by the return on media spend, as well as brand awareness and brand affinity throughout the buying funnel. As Findlay noted when the I'mpossible campaign launched, the company's sale cycle can be as quick as 30 minutes after someone visits the website. For renewals or companies looking to change policies that are about to expire, the cycle might be a few weeks.
"We are a relatively young brand in the US, selling to small biz [here] for less than 10 years," says Findlay, noting the campaign is slated to run throughout 2019. "So driving brand affinity is vital for us. We put a high premium on understanding those metrics."