Bud's Latest Brew Inspired by George Washington's Recipe
Budweiser has given beer drinkers another reason to buy its expanding line of beverages: the newest addition to its Reserve Collection, inspired by George Washington's hand-penned recipe from his personal military journal dating back to 1757.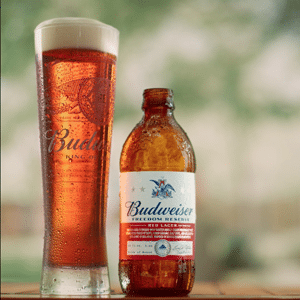 The brew, Budweiser Freedom Reserve Red Lager, is bottled in a vintage stubby bottle and also available in one-pint cans. Brewed by Budweiser's own employees who are veterans, their signatures are prominently featured on each bottle and can.
According to Fortune, Washington described how "To Make Small Beer" with these directions in his notebook:
"We are incredibly proud of our Freedom Reserve Red Lager because it was passionately brewed by our veteran brewers who have bravely served our country," Ricardo Marques, vice president, Budweiser, says. "With Freedom Reserve we remain dedicated to our mission to support our veterans and their families through our longstanding partnership with Folds of Honor."
A portion of proceeds sold this summer will benefit Folds of Honor—a nonprofit organization providing educational scholarships to military families. As of this year, the company has raised $14 Million in support of Folds of Honor.
A fully integrated marketing campaign for Freedom Reserve kicks off for summer, complete with in-store displays, online advertising and digital marketing programming along with new national TV creative airing during marquee sports moments, including the NBA Finals and NHL Stanley Cup Finals. Freedom Reserve will be available beginning in May through September 30, or while limited supplies last. Budweiser is also partnering with alcohol delivery service Drizly with a special promotion code to save $5 on the first purchase, using the code "Freedom."
Freedom Reserve Red Lager is the second specialty lager to appear in Budweiser's Reserve Collection. Last fall, Budweiser released its limited-edition 1933 Repeal Reserve Amber Lager. That recipe dates back to the pre-Prohibition era when Adolphus Busch created and brewed a special Amber Lager for his friends and local community.
Related articles:
Want a Ride in a 1936 Riley Kestrel? Budweiser says YES!