Tiger Beer Murals Made from Air Pollution
Tiger Beer, a Heineken premium lager, has an initiative to support people with unconventional ideas that translate to positive community action. This latest campaign in certainly one of them.
Its latest initiative is another partnership with Air-Ink, which makes ink from air pollution. The ink is being used to create pieces of art that will be part of a tour that begins in London and travels to Berlin, New York and Singapore, where Tiger Beer was founded. Those cities were selected because the brand thought the Air-Ink technology could be put to good use in those locales.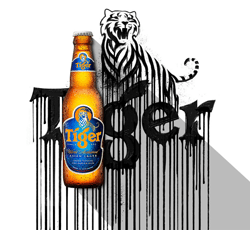 Artists, like Buff Monster in New York, are creating outdoor murals to inspire people to do what they can to lessen air pollution.
As The Drum explains, the ink used in the campaign comes from vehicle and chimney pollution in Hong Kong and India. Last year, Tiger Beer created a line of Tiger Air-Ink pens, markers and spray cans that were used by Asian artists to create street art.
Tiger Beer's campaign is just one example of the push to by marketers to promote corporate and brand social responsibility through marketing. It is a way for brands to earn credibility and loyalty among consumers, in particular the 80 million Millennials who seek out and are loyal to brands that are socially and environmentally conscious. Millennials, with their $170 billion in spending power, are influencing and transforming the way brands go to market.
Shell corporate has made major shifts in its marketing strategy with 85% of its marketing and advertising now focused on content creation and digital. All of the content focuses on its corporate social responsibility activities, like working with an entrepreneur who converts waste from coffee into biofuels and sponsoring the world's first bus service fueled by coffee in London. The video content is shared on social channels like Facebook Live, Twitter and the Chinese microblogging site Sina Weibo.
The Tiger Beer artwork, which will appear during April, promotes the #uncageideas and alerts viewers to the air-ink.com/tiger website. Read the article …
Related articles:
The Muslim Marketing Movement Marches Forward
In a Nod to Millennials, Head & Shoulders Bottles Made from Beach Plastic
As Bee Populations Decline, Cheerios' Buzz the Bee Disappears from Boxes