Want a Ride in a 1936 Riley Kestrel? Budweiser says YES!
Tomorrow is the day. Stop out after work and have a few Buds. Then hail a Lyft to be driven home in style—and in safety—in a 1930s totally cool antique car to celebrate the debut of the brewer's limited-edition 1933 Repeal Reserve lager.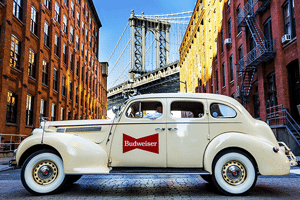 The one-day "Bud Vintage Mode" event takes place Oct. 25 in Manhattan when Lyft will offer rides in a number of antique vehicles, including a 1936 Riley Kestrel and 1937 Packard Sedan all packaged in Budweiser imagery.
Lyft users can sign up for a ride in their Lyft apps. The 15-minute drive, between 3 pm and 7 pm, will take passengers through the famous streets of New York, passing landmarks and neighborhoods that were integral to Prohibition, while learning about the newly released beer. The cars will be available in the West Village, East Village, Union Square, Flatiron District and Chelsea.
The recipe behind Repeal Reserve, an amber lager, dates back to the pre-Prohibition era when Adolphus Busch created and brewed a special Amber Lager for his friends and local community to enjoy. Due to the onset of Prohibition in 1920, the beer didn't have a chance to be distributed widely outside the St. Louis area so the brand is now releasing the brew nationwide to celebrate the Repeal of Prohibition, the company said.
The full marketing campaign includes TV spots, digital content and Clydesdales appearances. Budweiser is also partnering with Drizly to deliver a taste of history to beer drinkers across the country with a special code for $5.00 off their first purchase of 1933 Repeal Reserve, using the code Prohibition.
"While Budweiser Repeal Reserve is a great tasting Amber Lager, it also tells the story of an important part of our history and gives reason for celebration," Ricardo Marques, vice president, Budweiser, said.
Last month, Bud and Lyft added yet another step in its "Give a Damn" to this year offer 150,000 round-trip rides across nine states plus Washington, DC, over the holiday season. Last year, as part of its pilot program, Budweiser delivered more than 35,000 rides home across six states plus Washington, DC, to help prevent drinking and driving.
Related article:
Technology Trailblazer: Patrón Innovates with New Apple AR Tech