This column is the first in a series that will provide insights into various demographic groups, beginning with women.
With apologies to the Who, your new boss ain't the same as the old boss–at least in the digital world.
Who is the new boss? She's between 25 and 54 years old. She is eager to learn about your brand but has little time or patience for irrelevant content. If she's a parent, she relies on e-mail to communicate with friends and school officials. She often takes a break from her busy day by looking online for a brief escape. Although she'll love you for sending a no-nonsense e-mail offer that saves her money, if you disappoint her, she'll shut you out of her life and tell her equally powerful friends to do the same.
The new boss of online commerce is the female consumer. She and her friends outnumber men online, and more of her friends join the club every day. She influences 80% of household spending and is a big reason behind the continued brisk growth of online retail sales.
To win the new boss's favor–and her business–you'll need to understand her. So here's what makes her tick:
• Compared with men and especially when shopping for a family, women value price over brand, which gives you an opportunity to reach them effectively through e-mail marketing and online promotions. Don't ignore their perception of brand value, though, especially when they shop for themselves. They are also more likely than men to share valuable e-mails with their friends.
• Women want information and utility. Women must juggle many demanding roles: mom, daughter, careerist, wife. Appeal to them by offering smartly designed product configurators and information that helps them perform transactional tasks quickly.
• Women are three times as likely to tell others about a consumer experience (good or bad) and prefer learning about a product or a service from other women. Think of ways to let them share their experience–such as a "send to a friend" button–and reach them through word-of-mouth marketing and blogs. Cultivate awareness among influential product mavens (especially females) in the online world. Ensure the accuracy of information found online about your products and services, and be vigilant in countering negative word of mouth.
Middle-aged women (ages 35-54) represent the largest buying segment of all online Web buyers and should not be underestimated. They influence their family spend and are growing in numbers. Younger women (ages 25-34) spend more than middle-aged women. They are more likely to be without children and to have higher levels of discretionary income. Younger women are more likely to shop and conduct financial services online. Financial services firms such as Prudential Financial already feature content geared explicitly toward women.
And don't forget about Internet-savvy teen females, who will soon enter the workforce and gain the power of discretionary spending. (See below for an idea of where the up-and-coming generation of young women spend their time online.)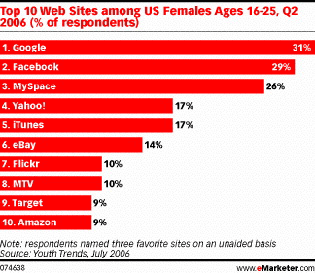 These observations are based on valuable industry research from analysts such as eMarketer, Forrester, and JupiterResearch and our own experiences with such female-savvy clients such as CIBA Vision, J.C. Penney, and Ann Taylor.
For instance, CIBA Vision courts the female audience through its freshlookcontacts.com Website, which offers color contact lenses with exotic names such Moonlight and Sea Green. At the site, women—nine out of 10 customers are women–can choose a color contact lens according to their eye color and skin tone, or they can just experiment with colors. Website visitors can then obtain a certificate from CIBA Vision for a free trial pair from their eye doctor.
This site demonstrates a number of important ways to reach women. For instance, a prominently placed "Try a Pair Free" offer on the home page appeals to females' affinity for value and price. The online product configurator appeals to their desire to conduct efficient product research. A "send to a friend" feature allows visitors to easily share their opinions with their friends, which plays to females' propensity to tell other women about their consumer experiences.
You're just fooling yourself if you fail to accept the new boss and learn to understand her. Use these insights to go find her and get her to start talking about your brand. And you won't get fooled again.
Dave Friedman is president of the central region for Seattle-based interactive services firm Avenue A | Razorfish and a monthly contributor to CHIEF MARKETER. Contact him at Dave.Friedman@avenuea-razorfish.com.