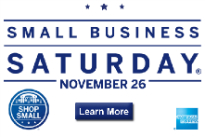 Last November, American Express OPEN spent exactly two and a half weeks pulling together its first "Small Business Saturday" campaign. The merchant services division of Amex leveraged primarily Facebook and a few brand partnerships to set up a program rewarding cardmembers for carving out time between Black Friday and Cyber Monday to shop their independent local stores.
The event was judged a large success, increasing total sales at participating stores by an average of 28% over the same Saturday in 2009. It's back again this year, on Saturday Nov. 26. And with a whole year to implement version 2.0, Amex is hoping to make sure that Small Business Saturday 2011 will be a very big deal.
The basic structure of the campaign is the same as last year's. Consumers who register their American Express credit cards online before Nov. 26 will earn a one-time $25 credit to that card if they spend $25 or more at one of the participating small businesses on that day. Among businesses signing in to take part in the campaign, the first 10,000 who sign in will be given $100 in Facebook ads geo-targeted to their markets.
But this year those businesses could get much more, and have more free tools available to get themselves found and publicized both online and off, says Mary Ann Fitzmaurice, American Express OPEN's senior vice president of partnerships and business development.
"We really don't want this to be about American Express," she says. "This is to create a day to make small business owners part of the national culture, just as Black Friday and Cyber Monday are. To do that, small business owners need to get engaged in the day and create their own offers for marketing to their customers."
For that reason the Small Business Saturday Facebook page —which has remained up since 2010, thanks to garnering 1.5 million likes in the first campaign—offers a "For Your Biz" page linking registered merchants to an array of tools. These start with simple in-store signs but extend to online badges, suggested email texts and templates for Facebook posts and tweets.
More ambitious merchants can link through the page toYouTube's "My Business Story" feature, where business owners can submit short clips about their store by Nov. 15 and get access to editing and music tools that will help add some polish to the videos.
Owners who submit their videos by the deadline will be included in a contest staged by Google and American Express to choose the 36 best entries. Those winners will each get $5,000 in Google display and search ads and, just as importantly, will be featured on the YouTube.com home page on Friday, Nov. 25. As Google points out, that YouTube home page gets 22 million views a day.
"Running the campaign on Facebook last year was such a success in going viral that this year's we've broadened the effort to other 'digital dynamo' partners," says Fitzmaurice. "Now we're working not just with Facebook but with Google, Twitter, and Foursquare."
Business owners can also use the Small Business Saturday Facebook page as the portal to training in how to get started creating their own social media, with instructions for putting together an effective Facebook page, picking up followers on Twitter and location-based service Foursquare, and using the YourBuzz monitoring tool to find out and respond to what people are saying about their business online and in social media.
Offered by Clickable, YourBuzz is putting up a $100 credit for LinkedIn ads for the first 6,500 owners who sign up along with $100 in further ad credits on Facebook.
The page also includes a space where owners can share peer-to-peer the kinds of offers they'll be using to bring customers through their door on Nov. 26, from the merchandise they'll be featuring to the services they'll be providing free or at cost.
"This is a permanent toolkit," Fitzmaurice says. "These will live beyond the day. Small Business Saturday is the cornerstone of a 'shop small' movement that we want to create among local retailers."
Consumers will also see an expanded functionality in the Small Business Saturday Facebook page. For one thing, they will be able to insert their ZIP code and see a list of the small retailers in their area who are taking part in the one-day program, searchable by location or by business category.
"Last year we fielded a lot of requests from consumers who couldn't figure out which businesses were taking part, so we added that," Fitzmaurice says.
This iteration of Small Business Saturday has also widened to take in a number of community groups, many of which are posting their own Facebook pages around the day, and a broader range of corporate partners. Some 200 advocacy groups are reportedly lining up with the Shop Small campaign. Women Impacting Public Policy, a non-partisan group supporting women-owned businesses, will hold public events in 15 U.S. cities on Small Business Saturday.
The campaign has also signed some 50 partners among online and offline brands. These partners scale from email service provider Constant Contact and mom-centric group-buying site PlumDistrict.com up to giants such as FedEx and Xerox.
While big brands might seem an odd choice for partnering on a campaign elevating the profile of small ones, Fitzmaurice says, many of these corporate partners actually work closely with independent merchants.
For example, FedEx spent $1 million to buy branded "Shop Small" $25 gift cards for use on Nov. 26. FedEx handed out 30,000 of the cards via its Facebook page on a first-come basis, and distributed another 10,000 to select employees among their top clients. Published reports claim the 30,000 cards distributed through Facebook were gone inside of an hour.
"Small Business Saturday" isn't the only campaign from American Express offering to put social tools into the hands of independent merchants. In July, the company rolled out a Facebook app that offered cardmembers statement credits for choosing deal offers tailored to their likes and interests and using their register Amex cards to buy those products and services at selected businesses. The "Link, Like, Love" platform was paired with a tool, "Go Social," intended to help small business owners create offers for American Express members, distribute them through Facebook and other social channels, and monitor their success with detailed reports.