2012 PRO Award Finalist: Acosta Marketing Group for Wounded Warrior Project
Drawing inspiration from American soldiers who unite for a single honorable mission, Acosta Marketing Group saw an opportunity to unite competing consumer packaged goods brands and retailers in support of a single cause, called "Believe in Heroes," a national cause marketing campaign designed to raise funds and awareness for Wounded Warrior Project, a nonprofit organization that honors and empowers wounded warriors returning home.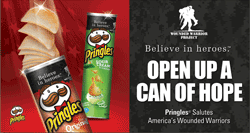 During the two-month campaign, which ran from Sept. 11 through Nov.11, 2011 (Veterans Day), consumers and shoppers were invited to support the brands that support our warriors by donating money, purchasing products from participating brands and retailers to support their donation efforts, or purchasing "Believe in Heroes" licensed items either at select retailers or at an online store.
Brands were invited to buy into a nationwide, free-standing insert program that benefited Wounded Warrior Project and would be distributed to 50 million households via newspapers on Nov. 6, 2011. The first online-only coupon offering promoted via FSI, brands participated by licensing limited-time "Believe in Heroes" packaging, developing special merchandising and hosting events.
Retailers participated by providing dedicated space in their circulars, placing special signage and P-O-P materials throughout their stores, offering licensed "Believe in Heroes" products for retail sale and placing consumer donation tear-pads at checkout. Merchandising was also available for fundraising and special events.
In addition, believeinheroes.org received a special area on Wounded Warrior Project's website, where consumers could download coupons, make a donation and purchase licensed products.
Results exceeded all expectations, with the effort raising $3.5 million for the Wounded Warrior Project. Fifty-two major brands from Heinz to Brawny to Pringles participated in the FSI, and several of them went above and beyond to feature special "Believe in Heroes" packaging and host special events to heighten awareness of the cause.
Sixty-eight grocery store brands and thousands of locations throughout the U.S. promoted "Believe in Heroes" in their circulars and/or in stores. Their circulation alone resulted in more than 200 million household impressions. Of note, one retailer, Harris Teeter, ran programming in support of Wounded Warrior Project for 16 consecutive weeks.
Overall, 7 million "Believe in Heroes" coupons were printed from the SmartSource host site; 70% percent of those surveyed said they printed the coupons because it supported a cause, second only to printing the coupons to save money. Fully 92% of shoppers who downloaded coupons in support of "Believe in Heroes" said the program increased their awareness of Wounded Warrior Project.
Coupon use also drove shoppers to try new brands: 54% of those surveyed were new to a brand and 84% said they would repurchase the brand. The promotion received 35 million online impressions and 120,000 broadcast views. A total of $80.7 million was generated in incremental brand sales. Participating brands outperformed all competitive national and private label brands during the campaign period. Website traffic for Wounded Warrior Project spiked from an average of about 5,000 people per day to as much as 366,000 on the Sunday the FSI dropped.