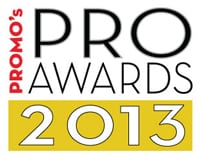 Campaign: Kevin Costner & Modern West Rolling Stone Concert Promotion
Brand: HISTORY
Agency: BPG, Horizon Media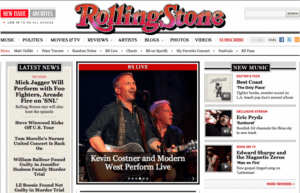 When Oscar winner Kevin Costner joined the cast of last year's miniseries "Hatfields&McCoys," the History Channel got more than a leading man for its first scripted drama. It also got a recording artist for the soundtrack: Costner's country/rock band, Kevin Costner & Modern West, is featured prominently.  And Costner's musical hooks gave the History Channel an unlikely public-relations hook.
With its agencies BPG and Horizon Media, the History Channel struck an exclusive partnership with Rolling Stone magazine. Costner and his band headlined a concert, cohosted by the cable network and the magazine, at Manhattan's intimate but au courant City Winery. Video from the concert, along with exclusive interviews of Costner discussing "Hatfields&McCoys" in general and the role of music in the miniseries specifically, was posted on Rolling Stone's RS Live website in the weeks prior to the program's debut in late May. The History Channel sponsored the videos, using banners to further promote the miniseries.
By reaching out beyond its normal constituency of history buffs in this way, the network was able to make country/rock aficionados and Kevin Costner fans aware of the program's existence in a way that exceeded the amount of mass media exposure the History Channel could have afforded to buy.
"Hatfields&McCoys" recorded the largest ratings in cable-TV history, with the third and final episode averaging a record 14.3 million viewers. And while no one is suggesting that the promotion with Rolling Stone was the sole or even primary contributor to its success, it's safe to say that Costner's musical involvement struck a note with a significant number of viewers, whose unprecedented numbers were certainly music to the History Channel's ears.