How to Leverage Influencer Video to be Most Effective for Your Brand
There's no doubt about the power of video content.
Brands are increasingly relying on it to boost marketing efforts as live action helps create a connection with audiences that provides authenticity, making it especially powerful for the booming influencer marketing space. According to Cisco's recent Visual Networking Index, by 2021, 82 percent of Internet traffic will be generated from videos—an increase of 73 percent from 2016. But, how do you make sure that your video content is reaching the right target and driving ROI?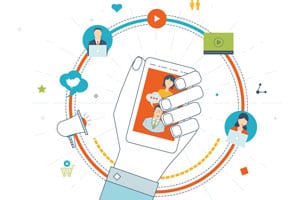 Marketers are certainly eager to determine the best ways to incorporate videos in their social marketing mix. In Animoto's survey, "The State of Social Video 2017: Marketing in a Video-First World," 67 percent of marketers said they invested in Facebook video ads, with 51 percent investing in YouTube, and 25 percent in Instagram. And, they plan to increase their investments in the next year.
In influencer marketing, not all platforms are created equal—marketers cannot rely on a "spray and play" approach, but need to look at each campaign and goals to determine the best platform for delivering their brand message in the most efficient and effective way. YouTube, by nature, is video-driven and a top platform for influencer marketing. Its parent company Google conducted a study that found seven out of 10 subscribers say YouTube creators are responsible for changing and shaping culture. It is superior for SEO, discoverability, diverse influencers and in-depth tutorials. Facebook is effective for short-length and hyperlapse videos. Instagram is also useful for short-length videos and is known for its set diverse influencers.
Influencer Marketing is one of "5 Trends to Bet on in 2018" in Chief Marketer's Dec. 13, 2017, Virtual Event: Register today.
Determining the best platform for a specific influencer's content relies on answering these three questions:
1. What is your objective for the video? The overall goal is undoubtedly to increase sales, but is the video intended to do that by increasing product or brand awareness? Through a promotion or sweepstakes offer? By providing education on ways to use the product?
All the social media channels can be used to increase awareness, but for a targeted promotion or sweepstakes offer, a short-form video on Instagram or Facebook, due to the high rate of engagement on each platform, is the best bet. A video that provides step-by-step instructions is better suited for YouTube. There, influencers can create something as simple as a how-to video with clever, engaging solutions.
2. Who are you trying to reach? The demographics of your target audience can determine where to place your video. Looking for the platform with the most users? That would be Facebook, with 68 percent of people on social media using this platform. But, Facebook users are typically older, so if that age range is not the same as your target audience, consider other options. For example, Instagram has a younger audience if you are looking to create video to reach young Millennial men (26 percent of Instagram's audience is male). If you're looking for Millennial dads, you might look to YouTube, as 80 percent of Millennial dads look to video content for parenting tips.
3. What is the product? If a product is complicated, or the process of using it is complicated, a longer video provides more time for demonstration and explanation, so YouTube is ideal. Many lifestyle videos for recipes, makeup or home repair have found a happy home on YouTube.
Answering these questions is a good start, but it's also important to understand your audiences and what they care about. Recently, a brand wanted to market a feminine product. It wasn't complicated to use or understand, so on the surface, a short video on Instagram or Facebook might have sufficed. However, through social listening, we discovered that the topic was a popular discussion on YouTube, where influencers shared personal stories that resonated with their communities.
An influencer video may also translate well on multiple platforms. By understanding your specific marketing goals, the advantages of each type of social media and the audience each platform serves, you can determine the best way to ensure your audience gets your message.
Holly Pavlika is SVP, marketing and content at Collective Bias. She can be reached at [email protected].
Related articles:
Taco Bell Looks to Social Fans for Video Content Inspiration
Fake Influencers are Grabbing Headlines: How to Hire Trustworthy Influencers
How Cause Marketers Use Social Influencers to Make Change