How Cause Marketers Use Social Influencers to Make Change
Noteworthy social personalities wield unprecedented influence thanks, in part, to the homegrown nature of their fame. They became popular because their unique stories and perspectives resonated with their followers. There's an intimacy and trust there that is difficult to replicate with more removed celebrities.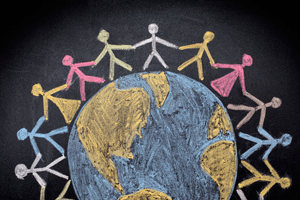 Combine that influence with an already engaged generation of young people who want to make a difference, and you have powerful opportunities for enacting real change in the world.
Influence in Practice
Big brands have already leveraged social influencers to promote everything from handbags to snack foods, and social media takeovers are becoming increasingly popular for reaching broader audiences. Brand messages seem more personal and sincere when they're coming from beloved social personalities instead of faceless companies.
Cause marketers can use the same strategies to amplify their causes and inspire people to get involved. A creative YouTube campaign can drive 2.5 times the engagement of traditional approaches to charity marketing. Imagine the impact you'd have if you saw that kind of lift across all your channels.
Getting Influencer Marketing Right
If you're considering using influencer marketing to promote a good cause, the following three steps help ensure the partnership is a success:
1. Identify influencers who can serve as voices for the cause.
Even without the power of IBM Watson, you can find potential partners by assessing their messaging, their audience, and which topics they tend to cover. Finding the right spokespeople for your cause can generate enormous returns for the campaign.
When M&M'S partnered with the Comic Relief foundation to raise money for children living in poverty, the company recruited celebrity comics, such as Wayne Brady, and YouTube influencers, such as Ricky Dillon and Jack Baran, to get the word out about its #MakeMLaugh campaign. The initiative ultimately raised $1.2 billion and garnered support in both the U.K. and the U.S.
2. Provide incentives for influencers to participate.
We'd all like to think influencers will rally behind important causes out of the goodness of their hearts. But they're barraged with these types of requests all the time, so they have to weigh which opportunities offer reciprocal value. Sending them thank-you letters from the charity and allowing them to use the organization's logo are simple ways to motivate influencers to support your cause.
3. Create a hashtag to help the campaign go viral.
Using hashtags is an effective way to get people involved, especially on Twitter and Instagram. Ask influencers to tag their relevant posts and to encourage their followers to do the same. This can create an avalanche effect in which millions of people see the campaign and are inspired to get involved.
The Movember Foundation has seen great success through its hashtag #WhyWeMo. The popular organization raises money for research on men's health concerns, and #WhyWeMo encourages men to share photos of their mustaches and speak out on these issues. It's so successful that the foundation raised $16 million in 2016 alone.
Influencers can be incredible allies for charitable causes. Their authority among their communities allows them to break through the noise and share important messages with their followers. By partnering with the right influencers, you can significantly increase your organization's impact.
Ryan Detert is CEO of Influential. Connect with Ryan on Twitter @RyanMDetert.
Related articles:
Tips from Modern Brands to Leverage the Power of Digital Influencers