Instagram Influencers Far Outpace Brand-Owned Posts
In June, JetBlue averaged 2,363 engagements on its owned Instagram posts. That turned out to be a mere drop in the bucket compared to the influencer posts, which generated an average of 241,226 engagements for JetBlue.
That's an astounding difference that was documented in a new study on the influencer of Instagram influencers from NewsWhip that took a look at five brands June engagement posts: Jet Blue, Urban Decay, Nordstrom, Wendy's and Postmates.
eMarketer reported that based on the study, influencers are driving engagement for brands on Instagram at levels far beyond what the companies' themselves can do. The differences appear to be the same whether the brand is large or small.
Postmates, a logistics company that operates a network of couriers who deliver goods locally, had 396 owned posts compared to 26,635 from influencers. Even the brand with the smallest gap in engagements was impressive. The cosmetics firm Urban Decay recorded 66,440 for its own posts vs. 101,408 by influencers. For JetBlue, a paid post from Victoria Justice drove those stunning results, 102 times the amount of average engagements.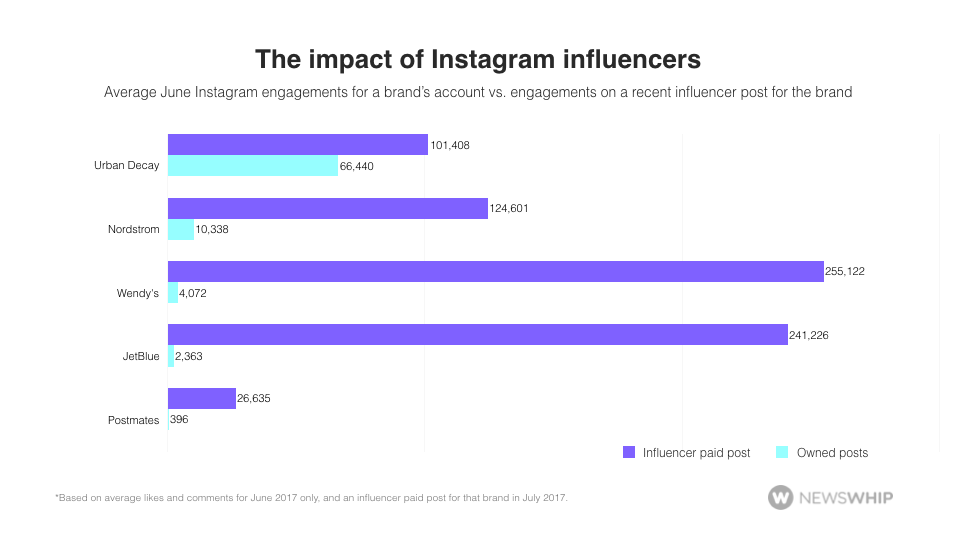 "Consumers have always been more likely to engage with other consumers than with brands; social media has just brought that to the forefront of digital," eMarketer analyst Nicole Perrin said in the post.
The report also found that posts with sponsored hashtags drove more than 58.5 million likes and comments in July as of the 25th.
Related articles:
6 Tips to Bring Influencers on Board