Taco Bell Looks to Social Fans for Video Content Inspiration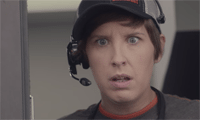 Taco Bell has launched a video series to reach consumers far beyond its drive-thru windows and snappy in-restaurant seating.
"Taco Tales" are short branded videos that put Taco Bell in the background. Taco Tales all live on YouTube in a big push to get video and social content in front of customers and prospects alike. In the second episode, a Taco Bell drive-thru encounter forces a hangry race team to improvise in how they order at the drive-thru window to satisfy their late-night cravings.
Some of the ideas for #TacoTales come from social media fans where Taco Bell has a heavy presence on platforms like Twitter and Reddit and fans are active. Ryan Rimsnider, Taco Bell's senior manager of social strategy, weighs in. Read the article … and watch Episode 2: "Race Thru"
Related articles:
Taco Bell's CMO Marisa Thalberg on the New "Feast for $1 All Day" Promotion
McDonald's CMO on Content, DDB and Other Stuff
Arby's CMO Rob Lynch on the Fun and Meats that Move Sales