Intel Holiday Campaign Plays on Gift Giving
As holiday marketing mania takes flight, Intel is in the mix with a new campaign featuring LeBron James and Jim Parsons.
"The Ghost of Holiday Future" integrated campaign broke today with a first-time theme of gift giving.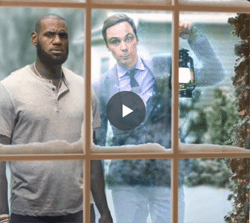 The story of "The Ghost of Holiday Future" is a nod to the holiday classic, A Christmas Carol, in a humorous way. It shows a dad—played by LeBron James—his future where he sees the result of his gift giving oversight: he didn't buy a new computer to power all the latest gadgets. Also starring in the spot is Jim Parsons, well known as Sheldon on the popular sitcom, The Big Bang Theory. Parsons inked an endorsement deal with Intel and starred in his first major brand campaign a year ago.
While the Intel holiday campaign encourages gift giving, it also, of course, puts forth a pitch to purchase an Intel offering, an incentive of $150 off select computers when purchased through Best Buy.
"The Ghost of Holiday Future" plays across broadcast, social and mobile.
"This new campaign is the first time we've specifically focused on gifting and lets the consumer know that without the latest PC powered by 8th Generation Intel Core processor, your new 4K camera, VR headset and the latest PC games will be 'virtually useless," says Steve Fund, Intel's senior vice president and chief marketing officer.
Related articles:
Color-it-Yourself, Starbuck's Says of its 2017 Holiday Cups