How to Craft Localized Digital Marketing Strategies
Small-to-medium size businesses don't always have the bandwidth to test out new marketing technologies or strategies that are unique to each brand to reach local customers.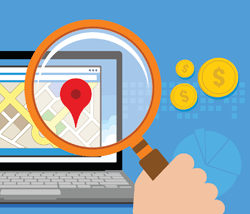 Here are excerpts of 5 local marketing tactics from Forbes:
1. Local Content Marketing Small businesses may have the edge here because they are more likely to have expertise in a specific field or industry. That can make a strong and compelling case for the basis of creative content relevant to locals.
Neil Patel, a contributor to Forbes, provides seven creative content marketing strategies that have proven to work in digital. For example, humor is one. That may sound like content marketing 101, but Patel explains why it works and shares an example from Denny's. JetBlue used humor through a series of social videos to tackle tough issues around passenger etiquette. (Read Patel's seven strategies).
2. Partner with Local Niche Influencers Small businesses have small budgets so to partner with the like of a Kim Kardashian as an influencer is way out of reach. Niche influencers known to a specific city or state are the way to go to reach new local audiences.
Instead of using celebrities to connect with a large audience, micro-influencers—everyday individuals with small, dedicated followings online—can multiply a brand's voice exponentially, causing its message to appear in millions of users' social media feeds around the world.
These micro-influencers' followings are a far cry numerically from celebrities' networks, yet their messages pack a punch. The authenticity of these influencers causes followers to welcome a branded message with open arms. According to McKinsey & Company, this kind of word-of-mouth marketing is now responsible for 20 to 50 percent of all purchasing decisions, Scott says.
3. Social Media Micro targeting on Facebook can break down to reach potential customers in your state, or even as granular as your Zip Code.
You can also use Facebook Ads exclusively as a retargeting channel for reaching people who have already visited your company website. You place an invisible Facebook pixel on your website, and when a customer visits the website they are then tagged. When those customers then visit their Facebook feed, they'll see an advertisement for your business in their feed. These "warm leads" turn into paying customers at a much higher rate than cold leads.
4. Local Search Ads Local search ads are one of the most reliable and cost effective ways to drive sales and leads with impressive results.
5. Mobile First Mobile users do plenty of searches when out and about. Make sure your mobile design is up to snuff to pull in those locals instead of chasing them away.
Related articles:
What Micro-Influencers Can Do For You