As Bee Populations Decline, Cheerios' Buzz the Bee Disappears from Boxes
The world's population of honey bees has been disappearing at an alarming rate. This isn't a new phenomenon and environmentalists, bee activists, scientists, farmers and others have been trying for years to figure out why. The bees are critical pollinators of the world's food supply, contributing $14 billion to the value of U.S. crops.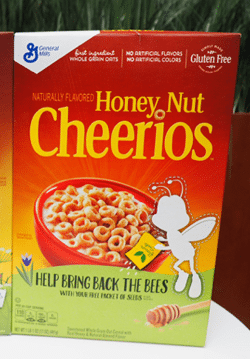 But what is new is the disappearance of Buzz the Bee, the beloved mascot for Honey Nut Cheerios. Buzz has disappeared off of every cereal boxes—only his silhouette remains.
The move is the brand's way of kicking off a campaign to raise awareness of the collapse of honey bee colonies, prolific and important pollinators of the world's food supply. The goal of the #bringbackthebees campaign is to help create a more "bee friendly" world by distributing enough seeds—and generating enough enthusiasm—for Americans and Canadians to grow 200 million wildflowers for habitat for pollinating honey bees.
People who learned about the "Bring Back the Bees" campaign requested and received more than 1.5 billion seeds, reaching the goal within one week. The brand is moving forward, encouraging people to purchase their own wildflower seeds and to chronicle their efforts at #bringbackthebees. Even Ellen DeGeneres jumped in with the tweet and video, "Brielle learned about pollination & why bees are so important. It doesn't get much cuter than this: #bringbackthe bees."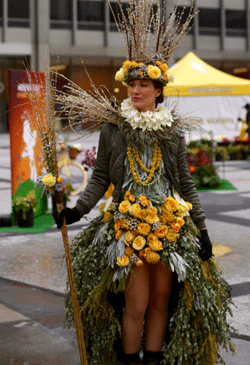 In addition to the social media campaign, two events are taking place in Chicago this week where seeds are being distributed. At one event at Fleurotica, the Garfield Park Conservatory Alliance's floral fashion show, Honey Nut Cheerios dressed a brand rep in dress decorated from head to toe with beautiful flowers and greenery designed by Melinda Whitmore. A pop-up "Grocery Store of the Future" brought home the grim reality of what shoppers would find—or, rather not find—in stores if the bee population completely collapses.
In addition to replacing the black and yellow Buzz the Bee with a white silhouette, Honey Nut Cheerios packaging has been overhauled with an all-things bee design. The fronts of boxes have a large bright-green callout to "Help Bring Back the Bees." The backs of boxes are printed with all kinds of information about bees and how people can help.
General Mills has been involved in protecting pollinator habitats since 2011. It has spent millions of dollars to plant thousands of acres across North America of pollinator habitat. And last year, it put $4 million toward the USDA's Natural Resources Conservation Service to help farmers plant pollinator habitats.
But more and more, consumers, in particular Millennials, make purchases based on the brand's corporate social responsibilities. They expect their brands to commit to social and environmental responsibility and will support those brands with undying loyalty. Read the article …
Related articles:
In a Nod to Millennials, Head & Shoulders Bottles Made from Beach Plastic