In a Nod to Millennials, Head & Shoulders Bottles Made from Beach Plastic
We all make purchases because the packaging attracts us to the product, whether we really need the item or not. The shape is pretty or unique. Maybe utilitarian. The colors are lovely. You can store all your loose change in it. There are all kinds of reasons we buy what we buy.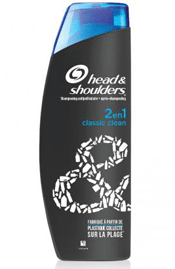 But more and more, consumers, in particular Millennials, make purchases based on the brand's corporate social responsibilities. They expect their brands to commit to social and environmental responsibility and will support those brands with undying loyalty.
Enter P&G. It is debuting fully recyclable shampoo bottles made with 25% recycled plastic. The plastic is collected after washing up on beaches around the world for bottles of Head & Shoulders Shampoo. To get the word out to consumers, the bottles include the callout, "Plastique Collecte Sur La plage." The first 150,000 bottles will appear on store shelves in France this summer.
The initiative expanded P&G's focus to include more post-consumer recycled content in its packaging.
"We felt that the leading shampoo brand in sales should lead in sustainability innovation and know that when we do this, it encourages the entire industry to do the same," says Lisa Jennings, Vice President, Head & Shoulders and Global Hair Care Sustainability Leader, Procter & Gamble. "We've been fortunate to work with such great partners in TerraCycle and SUEZ to make this vision a reality." Read the article from Packaging Digest …
Related articles:
Avon #BeautyBoss Campaign Targets Millennials
Everything Old is New Again—And That's What Millennials Love
The Psychology of Successfully Marketing to Millennials: Infographic