Aflac Highlights What It "Isn't" to Showcase What It "Is"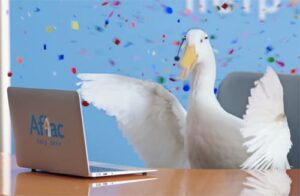 Aflac has tremendous brand awareness. Everyone knows their iconic duck and that the brand has something to do with insurance. But beyond that, it gets a little murky.
Consumers not knowing the specifics of their products is a problem the brand is addressing head on in a new campaign designed to clear up what it is—and isn't, says Shannon Watkins, vice president of brand at Aflac.
"We spent a large part of 2018 doing consumer research," says Watkins. "Consumers tell us we are insurance, and they know the duck, but beyond that, there are a lot of misconceptions out there."
The brand decided to make that its marketing hook for 2019, creating content that encourages consumers to think about what Aflac isn't, to educate them in a fun, engaging way about what it is. The campaign officially launches tonight, with a commercial on The CW's The Flash, and rolls out on all major networks, kicking off an integrated campaign that will include radio, digital, print, social and experiential.
---
You May Also Enjoy:
---
In the 30-second spot, consumers ask "Aflac is auto insurance, right? Is it homeowners insurance? Is it duck insurance?" The duck celebrates when someone asks if Aflac helps with expenses health insurance doesn't cover. The spot ends with an animated duck inviting viewers to get to know the brand better at Aflac.com.
The overall goal is to provide education, notes Watkins, with creative across all platforms carrying the same look and feel. A bold tagline on the newly revitalized homepage carries through the commercial's message: "Simply put, Aflac gives you cash to help with expenses health insurance doesn't cover like deductibles and copayments."
The main audience for the campaign will be consumers, as well as insurance professionals. Content marketing will be used to dive deep into areas for specific targets on the B2B side, like small businesses. "Our company has multiple audiences," says Watkins. "Brokers need to understand who we are, so they'll make us part of their portfolio, and independent sales agents need to understand us as a brand."
Experiential, which hasn't been a large marketing focus in the past for Aflac, will be incorporated into the campaign, starting with an activation tied to next month's Grammy Awards. "We know we can drive education all day long, but it won't work if we don't connect with consumers in a meaningful way," she says.
The ROI of the campaign will be ultimately judged, not surprisingly, by whether the number of policyholders increases company wide, but awareness is also a significant component.
"What we're really trying to do is drive education, greater connections and leads," she says. "If we can do that at a faster rate, then we've been successful."
Aflac worked with a number of agencies on the campaign, including Publicis (creative), Sapient (website design), Dagger (website development), Spark Foundry (media), Square One (digital/SEO), MRY (social), CSE & The XP Agency (experiential), SCOUT Story Lab (content marketing), Marina Maher Communications (PR), Hill+Knowlton Strategies (PR), The Bantam Group (research) and The Studio at Aflac (internal communications).