Michelob ULTRA Becomes Beer Sponsor of Thanksgiving Turkey Trotters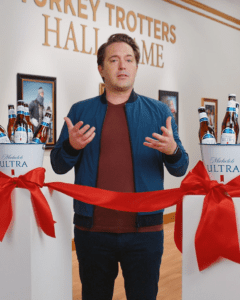 Michelob ULTRA has teamed up with Saturday Night Live comedian Beck Bennett to announce its sponsorship of Turkey Trotters. For the uninitiated, Turkey Trots are family-friendly runs that happen the morning of Thanksgiving all across the U.S. Millions of Americans participate each year (lots of them in costume) and large crowds cheer on the runners from the sidelines.
The brand announced the partnership on Twitter with a video featuring Bennett and a virtual "Turkey Trotters Hall of Fame" dedicated to the personalities who engage in the race. The comedian introduces the characters many of us are familiar with, from the overdressed and soon-to-be-boiling "over preparer," to the "married-into-the-family man" who has nearly reached his physical breaking point.
Inspired by trotting's great heroes, we are now The Official Beer of Turkey Trotters. Trotting this Thanksgiving? Share a pic with #WillTrotForBeer and we'll donate $1 to @AmpleHarvest to help fight hunger. For more info on donations visit https://t.co/ryQJHjjZX7 pic.twitter.com/nvHJcwtNEG

— Michelob ULTRA (@MichelobULTRA) November 21, 2019
---
Other articles you might enjoy:
---
The campaign includes a cause marketing component. Consumers above the age of 21 are invited to follow @MichelobULTRA on Twitter or Instagram and share a Turkey Trot pic using the hashtag #WillTrotForBeer in exchange for a $1 donation to Ample Harvest, a nonprofit dedicated to ending food waste and hunger. The promotion, which runs from Nov. 28-Dec. 1, also includes sponsorships of local races across the country where consumers can score free brewskis redeemable through a Drizly promo code.
Michelob ULTRA has capitalized on the wellness marketing trend previously by incorporating fitness events into its marketing strategy, most notably with the Michelob UTLRA Fit Fest, an exclusive, ticketed fitness festival that combined group training sessions, outdoor adventures and entertainment for a weekend-long event.
"Michelob ULTRA has always been a supporter of the running community and this year we wanted to take it one step further as The Official Beer of Turkey Trotters," Azania Andrews, VP Marketing, Michelob ULTRA told Chief Marketer. "Our brand platform, Do It For The Cheers, celebrates the fact that wellness is meant to be enjoyed. Turkey Trots are all about having fun with family and friends and enjoying yourself while getting your fitness in so supporting Turkey Trotters around the country was a natural fit for our brand."