9 Steps to Hire a More Diverse Team
Brand marketers may be making strong progress in achieving gender balance among CMOs, but there's still much work to do when it comes to attaining ethnic diversity.
Only 13 percent of CMOs and CMO equivalents are people of color, according to the ANA's inaugural CMO "scorecard" that it released in March.But what about the rest of the team?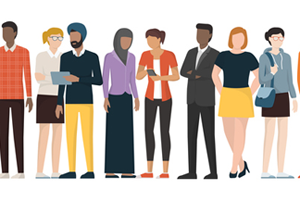 Beyond CMOs, "One thing missing from the brand strategy process in many companies today is diversity of [overall] talent. Not just diversity in race and gender but also diversity in experience, background, vocation and even age," Warren Moss, CEO of Demographica says.
Maynard Webb, a white male who admits that he is "hardly an expert in diversity," questioned why every new hire was white, young and male while visiting one of his firm's portfolio companies for its first board meeting. He wasn't happy with the response and took his questions a step further to consult professionals on the topic. What he came away with was a list of clear steps to incorporate into the hiring process to build a more diverse team, he wrote on Linkedin.
---
Other articles you might enjoy:
---
Here's a sampling of the nine steps:
• Don't hire based on "fit" you'll only end up with people like you.
• Think beyond the current job postings to how each hire adds to the overall diversity of the overall employee base.
• Set hiring criteria before you interview candidates
• Make sure job specs are written for all genders and ethnic groups, not just men.
• Stray from the normal hiring channels. "One of the founders I know posted job opportunities in daycare centers as a way to target people who had a lot to offer as well as to demonstrate she understood their circumstances and that she could accommodate them," Webb wrote.
• Your interview team should be as diverse as your company goals. "Experts say, one of the biggest deciding factors on whether a female candidate accepts a job is if there was a woman on the interview panel," he said.
For the full report, click here.