CGOs Prioritize, Focus, Collaborate Differently than CMOs: Study
The CMO Council and Deloitte explore how chief growth officers are embracing the position and reshaping the modern role of CMO in a new report.
The study, "The CMO's Growth Driving Playbook," found that these leaders blaze their own trails, prioritizing, focusing and collaborating differently.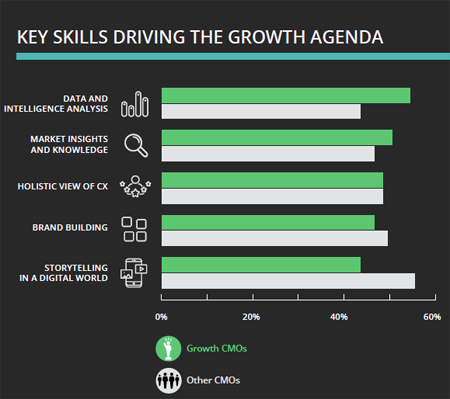 When it comes to key skills driving the growth agenda, CGOs put more emphasis on data and intelligence analysis and market insights and knowledge, where CMOs key in on storytelling in a digital world and brand building. Both leaders place a holistic view of CX as a key skill to drive growth.
"Striving for gains focuses the CMO's attention on storytelling and branding as the cornerstones for a campaign-based model. Each story communicates the value of the business in an effort to engage an individual. While these can be effective, foundational activities, they typically are limited in their ability to drive growth. Growth leaders, by contrast, often focus on the longer-term pursuit of sustainable revenue growth," the report found.
The report outlines five insights on how CGOs are advancing the growth agenda. Here are some of the key highlights:
1. Define the differences between gains and growth For example, be an active participant in mapping growth, including identifying the viability of M&A opportunities.
2. Speak the language of the business "Many of the growth drivers interviewed for this research advised that marketers should establish and embrace business metrics—not just marketing metrics—to gain more solid footing with senior leadership," the report said.
---
An interactive feature you might enjoy:
---
3. Connect across functional silos Thirty-six percent of respondents cited functional silos as the top threat to derail growth strategies in the coming year, compared to 47 percent of CMOs.
4. Mobilize support for the growth agenda Seventy-one percent of all marketers surveyed see the president or CEO as their primary ally, followed by the head of sales (56 percent) and line of business leadership (38 percent). However, growth drivers also see the board of directors as a key ally, with 35 percent indicating the board is a champion of growth strategy development, compared with 24 percent of the remaining respondents.
5. Think like a CEO and prepare for the role "Stay focused on the core drivers of the P&L. "You always want to take some shots and make a few bets, but you've got to keep measuring how it is driving financial performance," said Steven Schiller, a former marketing executive and now President of International at the Hershey Company, who was one of the executives quoted the study.