6 Steps to a Gamified Experience
From retailers to restaurateurs, everyone is creating immersive digital experiences that allow consumers to have fun, memorable interactions with their favorite brands. After all, who doesn't love a quick challenge, mini-game or a little friendly competition?
With a pinch of creativity and brand objectives in mind, gamified campaigns can help foster stronger consumer relationships and drive more impactful results. Here are the six steps to get your game on as you design your next campaign.
Step 1 | Know the goal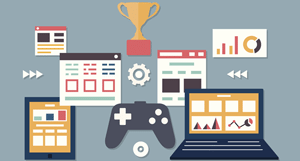 While you are designing a promotion that leverages gamification tactics to attract consumers, the overall success of the initiative hinges on its alignment with the brand goals. Know what you are aiming to achieve before you get started. With a defined initiative in mind, the consumer behavior you hope to inspire will be clearly illuminated. Are you looking to capture a new consumer segment? Re-engage lapsed customers? Reward your most loyal audiences? This behavior should then be aligned to match the appropriate gamification tactic that will inspire action and delight consumers.
Step 2 | Capture the data
Data is a brand's key currency coming out of a gamified promotion. Consider the data you need and want to collect not only from this campaign, but for future initiatives. What kind of interactions were the most popular last time? What can you learn now to enhance the game in campaigns to come? Use this information as a core piece of your design.
Step 3 | Understand the space
Depending on the audience you're attempting to target, as outlined in Step 1, leverage the best channel to engage your consumers. Once entering the playing field, the game must show the players their location in "space." Consider a real game: the first things a participant sees is their level, their status and their score. A gamified promotion is no different, and it's of the utmost importance that a consumer see this type of information upon entry.
Step 4 | Mark the field
The boundaries and rules for any game are required—promotions are no exception. Consumers need to know what's required to play, as well as how to get to the next level, badge or accomplishment. For example, are participants required to be in store? What specific actions do they need to take? Can they see how they compare against other players? Use storytelling to provide ongoing messaging to incentivize the consumer and notify them how close they are to the next accomplishment. Be sure these elements are clearly outlined as you craft the pieces of your sweepstakes.
Step 5 | Establish the rules
Clearly outlining the rules and/or Terms and Conditions of any promotion is critical to avoid legal hot water and ensure everyone can participate in a safe and comfortable environment. Get specific with eligibility, prizing, timing and any purchase requirements—and remember that different channels may require specific conditions.
Step 6 | Have some fun!
With all the parameters, goals and details outlined, it's time to get creative! While Step 5 defines the legal rules required, game rules should also include surprises such as hidden bonuses, unlocked levels and rewards that can be granted via random chance. These elements drive continuous engagement and communication between players. Dive headfirst into designing a gamification campaign that is unique, fun, and interactive. This is where you get to conceptualize the promotion and define a compelling user experience that will inspire consumers to return again and again.
Change the game and drive real results by integrating friendly competition and a sense of excitement into your next sweepstakes!
Russell Zack is SVP product and solutions at HelloWorld. 
Related articles:
Digital Gamification Injects a Coolness Factor into Loyalty Programs
3 Elements When Considering Brand-based Gamification Marketing