3 Steps to Choosing the Right Mobile Sales App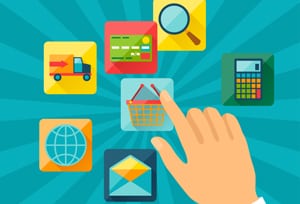 Not all mobile sales apps are created equal. Providing your sales team with the ideal mobile selling experience can help turn your sales woes into wins. So where do you start? A quick search will reveal a plethora of off-the-shelf mobile sales apps that appear adequate. It's tempting, but don't bite (yet).
Off-the-shelf sales apps abound aplenty and each one offers an assortment of features. The barriers to entry are relatively low, but the risk is high if it fails. Select the wrong app and you could end up with a disillusioned sales team and a poor experience for prospects. You need to get it right from the start.
Should you create a custom sales app or buy off-the-shelf? Here's three steps to help you make the right decision and make mobile a real business advantage for your sales team:
Define the selling experience.
It's important to define what your salespeople need, but even more important to define the needs of the customer. What does a typical sales encounter look like? How is it structured, or not structured? What are the customer's expectations? What do they already know? All these things matter when you're defining the needs for a mobile sales support app.
The app should accommodate your selling scenarios, not the other way around. Define the selling experience and identify what your team needs to be successful. And remember, these customer touch points shape the perception of your brand.
Empower your sales team.
A good sales app helps position your salesperson as the expert. If you are just loading your sales literature and a linear presentation onto an app you are doing your team a disservice. Your investment in mapping out the selling experience defines what is needed to drive dialog with a customer. Provide the right tools to your team. Don't just replicate content that's on your website.
It's important to remember your clients are much deeper into the customer journey if you're sitting in front of them. And there's a good chance they've done some homework on your website. Use the app to expand on what's available on your site, tell a compelling story and demonstrate your ability to deliver on their needs. Interactive tools, custom ROI calculators, demonstration videos and worksheets are just a handful of ideas. Make sure your app allows you to quickly navigate to the right content on the fly without disrupting the flow of conversation.
Spend less time in the office and more time in the field.
Don't limit the use of a mobile app to just the sales meeting itself. Many companies are using their sales apps to deliver training, new product information, service bulletins and other relevant content. Connecting your mobile app to your CRM system can streamline data entry for your sales people. Our agency recently developed an app that builds a proposal for the sales person based on info captured through the app. These tools are all designed to make the sales person more productive and streamline processes that take them away from selling.
So which type of app is right for you? You may discover an off-the-shelf mobile app fulfils your requirements and solves the challenge. Or you may find a custom application is the right tool for the job. Whichever you choose, make sure it delivers the right experience and positions your sales team to win in the market.