A year long program for Tic Tac Canada around the concept "Fun Fresh Talent" helped the brand create a long-term social media strategy and increase brand awareness.
Tic Tac Canada, which held the lead position in its category with 30.4% market share, wanted to create a long-term social media strategy and promotional campaign that would increase brand affinity and purchase frequency, as well as promote "playful refreshment" in the Portable Breath Fresheners category.
A year-long program was created, focused on building up and engaging the Tic Tac Canada Facebook community among 18- to 34-year-olds. Noise Digital developed an integrated communication plan around the creative platform "Fresh Fun Talent," a talent show application which allowed fans to share their 10-second talent for their chance to win $5,000 and a spot on national television. The campaign drove an increase in sales, grew the Tic Tac Canada Facebook community and further propelled Tic Tac's market share.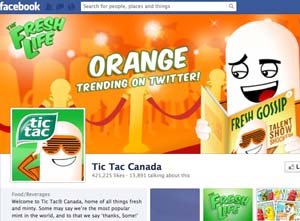 Social media such as Facebook, YouTube, Twitter and blogs were used to raise awareness of the promotion while encouraging sharing and consumer engagement. Tic Tac partnered with two video entertainment websites Break (break.com) and Gorilla Nation (metacafe.com) and integrated the Fresh Fun Talent application into their content. Traditional and digital media were used to showcase weekly finalists' online videos, including national television commercials.
To further increase traffic to the Fresh Fun Talent app, various Canadian blogs hosted Tic Tac branded giveaways on their site. These posts were then linked to the Fresh Fun Talent Facebook page.
Campaign results far exceeded expectations. More than 115,000 contest participants generated 400+ videos, resulting in 413,000 video views and 1.6 million Facebook impressions. Tic Tac Canada's Facebook page received 100,000 new active members in less than six months. The targeted media strategy cost 74 cents per Facebook like, and the overall campaign drove a 9.0% increase in dollar volume sales.