Subaru Roams the Great Outdoors with Unique Events and Promotions
Subaru of America is on the road again with outdoor outfitter REI to meld the two entities love of the great outdoors with thousands of like-minded outdoor adventurers and enthusiasts.
Across the country this summer dozens of REI events are underway where Subaru is showing off its 2019 Subaru Ascent. It is hosting plenty of activities to draw in new customers while also showing its appreciation for existing owners. At the center of it all is a sweepstakes offering the chance to win one of the new vehicles—equipped with REI gear—giving Subaru the opportunity to collect consumer information for re-marketing.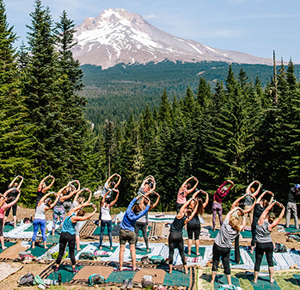 To make that happen, Subaru has a presence at the REI Outessa Series, which includes outdoor retreats and music festivals designed to grow and strengthen the community of women in the outdoors. The brand is also making stops at a dozen REI retail locations through it Subaru-branded road trip.
"Working with REI is to connect with the outdoor lifestyle community," says Matthew Barber, brand partnership and experiential marketing specialist at Subaru of America. "We have vehicles that enable that [outdoor] lifestyle. We're able to reach those people in those communities and we want to make sure we can show them our new vehicles and give them a cool experience whether they're a Subaru owner or REI member. It's about outdoor lifestyle relationship building and supporting our vehicle launches as well."
---
Other articles you might enjoy:
---
Outessa
Subaru will have a presence at the two, one-day Outessafest music festivals on Sept. 29 in Patuxent River Park, MD, and on Oct. 20 in Shakori Hills, NC, providing the opportunity to showoff its new Ascent and engage with people through the sweepstakes.
Inspirational speakers, female-led performances and adventures with REI Outdoor School instructors such as yoga, rock climbing, paddling and running are all part of the festivities.
"Subaru continues to be a valued partner as we grow the Outessa series and campouts this year," Sally Johnson, senior manager, events marketing at REI, says. "We look forward to having this like-minded partner join the co-op's broader efforts to make the outdoors more accessible and enjoyable for all."
Last year, Subaru tested its presence at the Outessa retreats. It will be back this year, returning to Waterville Valley Resort in New Hampshire Sept.13 – 16 and it added on the immersive weekend at Squaw Valley Resort in California, which took place Aug. 2 – 5. Each retreat features guided workshops in iconic locations that are often attended by hundreds of women.
One unique element to the events is "aura" photography that resonates with young, health-focused females. Aura photography plays on the idea that everyone has an aura, or field of energy that surrounds them. An aura photographer is onsite at some of the events using biofeedback technology to take photographs of attendees that reads their electromagnetic field that emanates a rainbow of colors specific to that person. There is also keychain making and VIP parking for Subaru owners.
"It's unique and represents what is believed to be their aura, a unique offering to draw people into the Subaru experience," Cheryl Markley, account director at Field Scout says. "It's a cool idea to provide people with a photo they could bring home and share with their friends or on social."
Subaru Road Trip at REI
Subaru will also hit 12 REI retail stores across the country this summer as part of its "Subaru Road Trip at REI" series. The series began July 20 in Seattle showcasing the 2019 Subaru Ascent, as well as other vehicles in the Subaru fleet for REI customers to explore first-hand. The brand will activate camping-themed giveaways and other promotions, including the sweepstakes to win an Ascent. For example, customers who buy any reusable cup will receive complimentary roadside refreshment from the Subaru "camp host." Subaru owners will receive a limited-edition camp cup. After stops in Austin, TX, Jacksonville, FL, Washington, DC, and other locations, the road trip ends Nov. 9-11 in Kalispell, MT.
REI Campouts presented by Subaru
Subaru is participating in the REI's campouts staged at unique sites across the country like Angel Island, CA, and Camp Bullfrog Lake, IL. At each of the 11 locations Subaru will be set up to offer attendees gourmet food and beverages, activities like evening entertainment, car camping tips and the sweepstakes offering a chance to win a the Ascent equipped with REI gear. The campouts end Oct. 28 at Unicoi State Park in Georgia.
To understand the ROI of the events, Subaru collects opt-ins and tracks leads, but doesn't consider that its top measurement.
"We track engagement and participation, how many people do the aura photograph, how much swag we give out to owners to understand how many of its base owners are coming out to engage with the brand," Barber says. "It's all connected to engagement on site."