5 Ways to Maximize Offline Engagement at Your Live Events
With so much of our work online today, many in the events industry tend to prioritize the digital aspect of marketing. Yet many offline marketing efforts experience higher conversions, as today they are considered "unique" in a sea of digital activity. For example, a 2015 study found that direct mail outperforms all digital channels combined by nearly 600%.
Offline is still important, especially when it comes to event marketing. But getting attendees to your events is just half the battle, especially for offline events. What truly matters to those attendees is their own experience on the ground. So how do you keep them engaged once they're there? Luckily for event marketers, there are now a number of ways to boost interactions with attendees on the ground—making their experience more enjoyable and your event more memorable. You can incorporate a variety of tactics, both digital and non-digital, to amplify engagement. It's a win-win situation, and it can start with your next event.
Here are five ways to maximize engagement at your in-person events:
1. Use Gamification and Contests
Gamification is all the rage in event marketing right now, and it's no wonder—with over 174 million Americans professing to be active gamers, it's a natural fit for a national pastime to become a conference-winning strategy.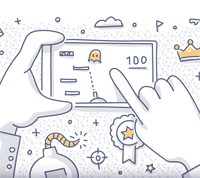 How does this play out? In 2015, for example, Prudential Financial teamed up with MapMyFitness for a "retirement race." The running race, which stretched 4.01 kilometers through the streets of Washington, DC, started as an on-ground event that fans could attend. Thanks to the partnership with MapMyFitness, it grew into a game where participants could win prizes, and ultimately transformed into something greater for the Prudential Brand: an ad campaign. In order to be eligible to win prizes, participants had to make a pledge to save financially for retirement, and then track at least 4.01 kilometers ("401K") of running with the MapMyFitness app—an easy feat for those in attendance at the 2015 race. Those who completed both actions were then entered to win a $500 UnderArmour spending spree. This gamification incentivized attendees to truly participate in the event—a win-win scenario for everyone involved.
The takeaway: Event attendees are often in-house to learn and to have fun. Combine the two by gamifying their experience, and you may also find that they'll retain information and branding better, as well.
2. Take Social and Sharing to the Next Level
Social media may seem like old news to marketers, but at this point, it's tried and true for a reason: it works for getting attendees to your events. While 88% of U.S. marketers use social media to increase awareness about their events before they occur, efforts shouldn't just be limited to the pre-event registration phase. One of the best ways to engage your attendees at your in-person events is by connecting with them in a social sphere while they're there. Yes, this includes the traditional event hashtags and branding, but it also means running social share and check-in contests (gamification redux!) and encouraging influencer engagement with the event both offline and online.
Think outside the box on this one, and go beyond just Facebook check-ins and Twitter hashtags. Social for your event might mean creating a Snapchat video about your event's theme, or asking your attendees to share their own videos on Instagram. Maybe you want to follow South by Southwest's (SXSW) lead and enact a type of "panel picker," which leaves 30% of the programming selection to the hands of attendees. Participants might vote on social media for speakers, themes or venues pre-event, or rate the same during and after the event. Social media is inherently social, and it's where your attendees already are—meet them there, and engage with them in real-time. Your event will be much better for it.
The takeaway: Social media has reached prominence because it's so effective. Don't disregard online engagement during an offline event to interact with on-the-ground attendees, rather than just using social media as a promotional pre-event tool.