NFL and Susan G. Komen Use Fortnite to Reach Online Gamers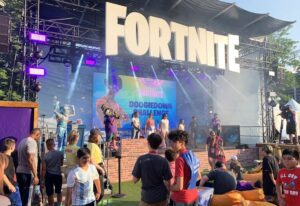 Consider this statistic: 71 percent of millennial gamers watch video game content on streaming sites such as Twitch and YouTube, according to SuperData research. So, marketers seeking to reach this younger set of gaming fans should consider meeting them on their own turf.
The NFL is looking to do just that through its partnership with Twitch and Epic Games, publisher of Fortnite, on a three-part event series in which NFL players and Twitch streamers pair up and compete for charity. The Twitch Rivals Streamer Bowl will include a draft of NFL players interested in competing as one half of a Fortnite team, followed by a live-streamed tournament taking place during Super Bowl LIV week. Read on for more details on the event series in Cynopsis Esports.
Indeed, esports tournaments with celebrities competing alongside professional streamers for charity, particularly surrounding a tentpole event like the Super Bowl, have the potential to provide massive reach for brands targeting young gamers. Fortnite itself held a celebrity tournament during its first World Cup in July, and brands like State Farm and Gillette have sponsored tournaments and worked with gaming influencers to reach the demo.
---
Other articles you might enjoy:
---
In a slightly different charity-for-gaming angle, Susan G. Komen launched a month-long Fortnite-based philanthropic campaign last week in partnership with RedPeg marketing to raise support for the fight against breast cancer. Launched on Giving Tuesday, December 3, the campaign saw four gaming influencers play a digital version of the nonprofit organization's Ribbon Race on a custom-built Fortnite landscape. Through their streams, the influencers challenge the gaming community to compete for the best times, and of course donate. Both are updated live within the game.
"With more people connecting with brands through gaming and esports than ever before, this campaign provides a fun, unique way to reach people who may not have previously connected with Susan G.Komen, but who care about supporting our cause," said Christina Alford, svp of development for the organization, in a release. For more on getting into the esports space, Hershey's head of integrated marketing Charlie Chappell, offers some lessons learned during the brand's first year.