Arizona Iced Tea Brothers Talk NYC Pop-Up Shop
Arizona Iced Tea celebrated its 25th with a pop-up retail shop located in New York City's trendy SoHo neighborhood.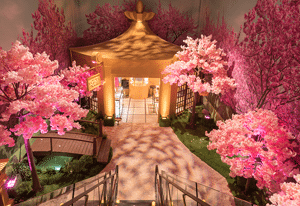 The "Great Buy 99" was a nod to the the tall can's 99-cent price. But the experience offered visitors a wide range of Arizona-themed streetwear and accessories for purchase including jackets, beachwear and hats. Swarovski Green Tea high heels, created by Brian Atwood, Nike Air Jordan 1's with custom designs inspired by the Great Buy 99 cents and Green Tea Cherry Blossom cans were all available, as was a green tea-inspired garden for people to enjoy.
Event Marketer interviewed Arizona Beverages owners and brothers Wesley Vultaggio, chief creative officer, and Spencer Vultaggio, CMO, to chat about the marketing strategy, the brand's cult following, nostalgia marketing and other more.