Nebraska's Self-Deprecating Campaign: "It's Not for Everyone."
Nebraska may not be on everyone's bucket list and the state—as hurtful as that may be— understands. Its landscapes are vast and flat, cornfields abound and travelers aren't sure what there is to do there.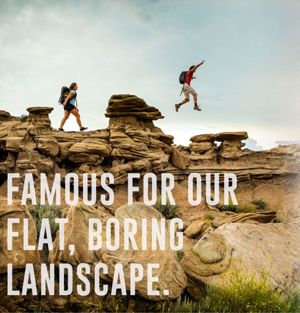 The Cornhusker State confirmed what it had already known through research conducted last year by brand consultancy Brand Lever, which specializes in destination marketing.
The research revealed that consumers don't consider Nebraska a leisure travel destination, and because they don't view the state that way, most won't put forth the effort to find or research things to do there. This was a key insight as the Nebraska Tourism Commission began to strategize a new campaign.
"Nebraska may not be on everyone's bucket list of places to visit, but if you like experiences that are unpretentious and uncomplicated or if you enjoy escaping the big city life for moments of solitude in the open plains, creating your own fun or exploring the quirkiness the state has to offer, chances are, you will like it here," the Commission said.
A disruptive, self-deprecating campaign launched this month and quickly went viral using honesty as the best policy, with messages like: "Honestly, it's not for everyone," and "Famous for our flat, boring landscapes."
"Because of the marketing challenge Nebraska faces, the campaign needs to be disruptive. Nebraska's qualities of warm and welcoming are good, but the campaign needs to go beyond that. The new approach addresses people's preconceived notions about the state using humor," the Commission said.
Earlier this year, the campaign was tested in key out-of-state markets that have the greatest potential to deliver visitors. Testing proved that the campaign effectively overcomes significant hurdles Nebraska faces as a leisure destination and increased the likelihood to visit. Respondents also recognized and understood the self-deprecating humor and it worked well for them, in fact, the humor is a key reason why the campaign was so well received, the Commission said.
---
Other articles you might enjoy:
---
"I think the brilliance of the campaign is it captures the essence of who we are in Nebraska, while also understanding the type of consumer who is attracted to who we are and speaks right to them," David Fudge, Nebraska Travel Association president and NEBRASKAland Days executive director, says. "It also frees those of us on the front lines to be authentic with people who come in to our facilities."
This summer a photo and video shoot captured scenes and sites across the state including unique and quirky locations like Carhenge and Hollywood Candy, conservation photographer Michael Forsberg roaming the Great Plains, Toadstool Geologic Park and other scenes.
The look and feel of the campaign will carry over into VisitNebraska.com and on social media using #HonestlyNE.
National media like CNN and Forbes also helped tourism to the state by covering news of the new campaign.
"Will this clever, viral campaign help Nebraska to move up in the ranks from No. 50 to No. 49? Maybe. Or maybe not. Whatever." a writer for CNN Travel wrote.