Moët & Chandon Finds Love with Snapchat
Valentine's Day is just around the bend and, for many, that means it's time to share a bottle of champagne with the one you love.
Moët & Chandon is stepping in to help celebrate by launching its second Snapchat game on Valentine's Day. The mobile game is part of the brand's "Love Unconventional"campaign that will run through Mother's Day.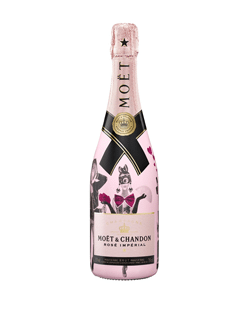 To play, users shoot corks at a tower of champaign glasses to earn points with the most points earned by those who get the cork in the top single-level glass. The winners get the chance to write a love poem with input from modern artist and poet Cleo Wade. The game will be marketed on the brand's social platforms with heavy influencer content on Facebook and Instagram where users will be directed to a browser-based version—as well as through ads on Snapchat Discover.
"A lot of advertisers, especially in the luxury space, use Snapchat to amplify content," Christine Ngo, marketing director and head of US customer engagement at Moët & Chandon told AdExchanger. "We really wanted to engage people in this program."
With Snap's help, the campaign will target Snapchat users interested in luxury, wines and spirits. The experience will be gated and targeted to consumers 25 and older.
This is Moet & Chandon's second Snap game. The first ran in December, but with a twist. It was reportedly the first two-player game and called for similar rules. Users competed to be "The Greatest Entertainer" by tapping the screen to shoot a champagne cork at a multi-tier Moët Champagne Tower positioned at the end of a table. The player had 10 seconds to try to land the cork in the coveted single top-level champagne glass and could share their high-scores at the end of the game to unlock an exclusive geofilter to share with their friends and family on Snapchat, further marketing the game.
"This holiday season, we partnered with 20th Century Fox's The Greatest Showman to empower fans to "Be The Greatest Entertainer," inspired by the grandeur of the film and Moët's storied history in entertaining," Ngo said last month. "We felt like the best way to empower our fans was to hand them the keys and have them actively co-create entertaining tips with us. The holiday season is always one of the most saturated periods for advertising—we knew we had to go beyond static content."
Related content:
Moët Goes High-Tech and its Marketing Director Weighs In
Gatorade Settles with California Over Dissing Water in Mobile Game