Marketers Spend $6.7 billion on Mobile; Sales to Skyrocket to $400 Billion: MMA Study
The mobile marketing ecosystem generated $139 billion of incremental output to the U.S. economy in 2012, a significant surge from $48 billion in net sales previously reported in 2010. The stunning increase only confirmed what many marketers already know, that mobile is a vibrant and lucrative platform that will continue to reward those who use it to target consumers through innovative, relevant marketing at key times.
Over the next five years, sales are poised to skyrocket to $400 billion or an annual growth rate of 52%, according to a study released today at the Mobile Marketing Association Forum in New York.
"Only a few years ago, mobile's impact was measured by its function as a basic phone and now it is impossible to envision a world without smartphones and tablets," Greg Stuart, chief executive officer of the Mobile Marketing Association said. "The health of the U.S. economy depends on platforms like mobile that offer unlimited potential for growth and innovation. No other media will evolve at this pace with unforeseen opportunities to reimagine the user experience."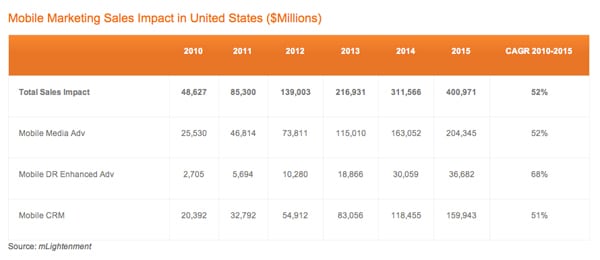 The study provides a comprehensive overview of U.S. economic performance across the mobile marketing industry and a road map for future marketing efforts.
In addition to identifying mobiles sales impact on the U.S. economy, and sales impact in the U.S., four other core categories were identified from the data and detailed in their contributions to mobile sales.
1. Spend on Mobile Marketing
To understand mobile's potential on the marketing ecosystem, mobile marketing spend was measured by industry category. In 2012, marketers and retailers spent $6.7 billion on mobile marketing calculated from mobile advertising, mobile direct response or enhanced traditional media, as well as mobile CRM. The three categories are forecast to keep spending, increasing budgets to $19.8 billion by 2015. Mobile advertising alone (includes voice, messaging, web, email, apps proximity and recognition) is projected to climb to $9.2 billion over the next five years, the study found.
Expenditures from 16 industry groups were evaluated. Finance, retail (excluding CPG) and manufacturing (excluding CPG) were the three largest, resulting in $3 billion or roughly half of the total mobile expenditure in 2012. Not surprisingly, the industries that spent more on mobile marketing and advertising also represent the largest markets for mobile employment.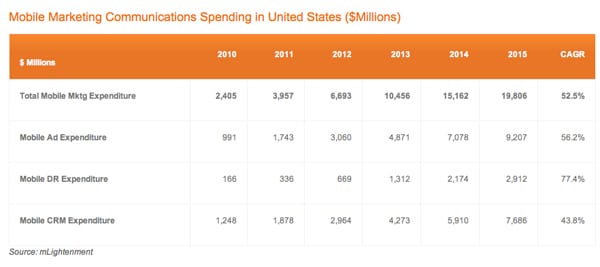 2. Employment Generated Via Mobile
Despite a struggling economy and stubborn job market, mobile marketing created 524,000 jobs last year from the combination of advertiser employment as well as product seller employment. More good news is that over the next five years, mobile is predicted to generate 1.4 million jobs.
3. Marketing Impact Ratio
To further demonstrate mobile's effectiveness as a marketing communications tool, Marketing Impact Ratio (MIR) was calculated by measuring mobile sales impact against marketing expenditure.
In 2012, mobile MIR peaked at $20.77.  After reviewing MIR data, the MMA discovered an unexpected insight; mobile marketing has yet to experience the law of diminishing returns.
By reviewing MIR figures for the top four mobile marketing spenders, data indicated that spending more across mobile marketing platforms does not decrease the impact rate. In fact, those that spend more on mobile achieved the highest impact ratio and thus gained the most value for their mobile marketing investment.
"While this observation requires additional exploration, it has the potential to further distinguish mobile from other media," the MMA said.
4. Balancing Customer Knowledge and Privacy Concerns
Big Brother is always watching. In political arenas discussions are taking place to consider restricting or limiting the trail of information that mobile offers to marketers and publishers.
The MMA reiterated its support of self-regulation and transparent communication to consumers about when and how mobile data is collected.
"In order for mobile sales, employee resources and marketing spend to continue to grow, mobile marketing needs room to evolve responsibly and foster innovation without undue constraint from legislators, regulators or private sector bodies," the MMA said.
Google, mBlox, The Coca-Cola Co., ExactTarget and Target assisted by underwriting the research for the study, the MMA said.