Last Fan Standing Wins a Mercedes-Benz
Mercedes-Benz is getting in the game … with its own game.
During Super Bowl LII, Mercedes-Benz is running a nationwide game on mobile devices called "Last Fan Standing," inspired by a classic offline challenge where participants touch a truck in an attempt to outlast one another and then become the truck's owner. For "Last Fan Standing," the idea is similar.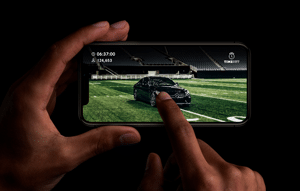 Even though Mercedes-Benz is not a Super Bowl sponsor, like many brands it has found a tie in to the Big Game.
During the game, players will vie to be the last eligible player touching a virtual Mercedes-AMG C 43 on their smartphone to win the high-performance sports car, but the real challenge will be that the car is constantly moving, not stationary. Lose contact with the car and you're out. Gamers' stamina and determination will be tested as the car encounters different terrain and obstacles, challenging the most athletic finger to stay in contact. As players dropout, a live counter will show the number remaining and how long they've managed to hang on.
"We wanted to get beyond the traditional game-day executions and do something that was more reflective of the social co-viewing phenomena that game day has become with people alternating between watching the big screen and socializing on the small one," Drew Slaven, vice president of marketing for MBUSA, says.
To practice for the real game, a interactive training site launched Jan. 31 where players can practice tracking the car across their phone's screen, set up reminders and invite their friends to play by visiting LastFanStanding.com.
After registering on Feb. 4, players who share on Twitter that they're joining the game can score a one-off, five minute "timeout" to use at their convenience—a real lifesaver for a challenge that could last long beyond the football game's final whistle.
"Earlier this year we launched a digital campaign for our high-performance Mercedes-AMG models called 'Join the Obsessed' and that's what inspired Last Fan Standing. So, may the most obsessed win on February 4," Slaven says.
Related article:
Avocados from Mexico Whips Up Clickable Emojis for Super Bowl