Gucci Pulls Blackface Sweater
Gucci is the latest brand to be swept up in the blackface controversy just as Black History Month gets underway.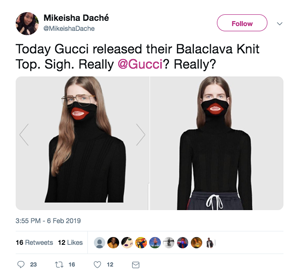 A new sweater that it just put on the market, the wool balaclava jumper, is a black turtleneck sweater that pulls up over the bottom half of the face with a cut out and oversized red lips around the mouth, CNN reports.
Social media users were quick to point out that the design of the sweater resembles blackface.
Gucci quickly pulled the sweater and apologized yesterday on Twitter:
"Gucci deeply apologizes for the offense caused by the wool balaclava jumper. We consider diversity to be a fundamental value to be fully upheld, respected, and at the forefront of every decision we make."
In a statement the company went on to say, "We can confirm that the item has been immediately removed from our online store and all physical stores.
Earlier this month, adidas pulled a pair of shoes off the market that had been part of its Black History Month collection and then cancelled the design. The shoes are all white, including any accessories like grommets.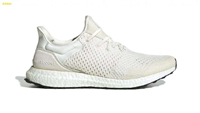 "If you were looking to create a metaphor for how literal whiteness has usurped a sneaker meant to commemorate black culture, you couldn't come up with a more apt example than this sneaker," FastCompany wrote.
The name of the collection, Ultraboost Uncaged, was also derided as insensitive. One tweet by @scholarlymama summed it up for many who took to social to express disbelief: "A swing and a miss, @adidas. FYI: Try consulting with actual Black people first. I hear they're all over the country."
---
You May Also Enjoy:
---
In a statement, adidas said that the Ultraboost Uncaged was among several other designs created for Black History Month, all of which were inspired by the Harlem Renaissance.
Many people speculated that the companies used Black History Month as a way to sell more products, not as a way to champion African Americans and wondered how both Gucci's sweater and adidas's shoe made it to the marketplace in the first place. "Who was in the room when these decisions were made?" FastCompany asked.