A Ghoulish Sampling of Brands' Halloween Tricks and Treats
Halloween was on Tuesday and brands were out in all their ghoulish glory.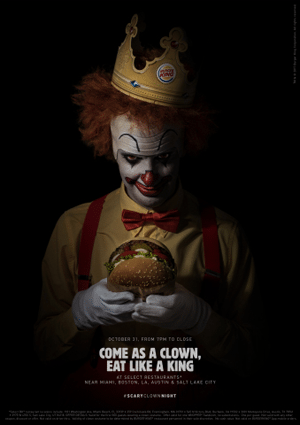 Brands are going all out in China for the holiday as that country's consumers are an attractive audience with an average spend of $86—on par with close to 50 percent of the U.S. population.
Here's a spooky sampling of how five brands were marketing on Halloween from BrandChannel:
• On the menu at KFC in China: Take a sip of K-blood in an IV bag or a bite of a red "blood pocket" (strawberry cheesecake flavor).
• KFC also enlisted help from social media influencer and heartthrob Hou Minghao who posted about the brand's Halloween menu items.
• Black-crust orange squash topped pizza from Pizza Hut, served in a spooky box.
• Budweiser and MAC Cosmetics sponsored a mega costume party in Shanghai and Guangzhou. Bottles of "bleeding" Bud were on tap.
• Check out this 3-minute Halloween film from "Bloodweiser."
• McDonald's hosted Halloween parties for kids.
Here in the U.S. there was plenty of ghoulish trickery as well.
7-Eleven offered creepy candy for kids, ghostly Slurpee drinks and $5 deals on whole pizzas as Halloween is one of the best-selling pizza days of the year for the brand. This year's "scare-the-slurp-out-of-you" straws feature Oscar the Airheads mascot with batwings or vampire teeth.
"Not surprisingly, a holiday dressing up and eating candy is especially popular with kids, teens and young adults—the ages of some of our most frequent shoppers," says Laura Gordon, 7-Eleven vice president of marketing and brand innovation.
Burger King served free Whoppers to anyone who appeared dressed as a clown on Halloween in a select-restaurant event called, "Scary Clown Night." Participates were encouraged to post their scary clown costume and tag @BurgerKing with #ScaryClownNight. The North America President, Alex Macedo, says, ""We don't usually talk about clowns. But for this Halloween, come dressed as a clown to eat like a king."
Related article: