Five Ways To Get Obsessed with Customer Experience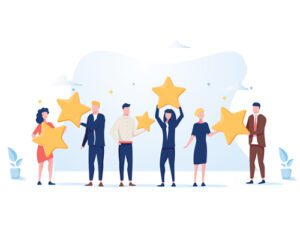 "Good inventors and designers deeply understand their customer. They spend tremendous energy developing that intuition. They study and understand many anecdotes rather than only the averages you'll find on surveys. They live with the design." – Jeff Bezos, in a 2016 letter to shareholders.
This quote is a perfect description of the importance of customer experience—something Bezos clearly understands how to harness.
As the unprecedented availability of information, resources and choices through digital channels shifts power from brands to buyers, we've entered a golden age of the customer. Across every industry, customer empathy—something that may have sounded like a platitude in the past—is now the competitive differentiator.
A Forrester report last year found that companies offering superior customer experience consistently outperform laggards in stock price and total returns.
In today's world, it's all about forging memorably positive emotional connections with customers—and that requires human insight and observing with empathy to recognize and relate to their motivations, needs, desires, likes, and dislikes.
At a time when customers can switch loyalties in an instant with a few taps or clicks, businesses have no choice but to be adroit at putting themselves in buyers' shoes at every step of the customer experience.
But a major gap exists between companies' perceptions of how well they're doing and those of customers. According to a Capgemini study, while 75 percent of companies believe themselves to be customer-centric, only 30 percent of customers would agree.
---
You May Also Enjoy:
---
To bridge this chasm, organizations must become obsessed with customer empathy. Here are five ways how:
Make "everyone owns customer experience" a central cultural tenet.
Companies should cultivate human experience as a core value. Everyone in the company should be able to see, hear, and feel the customer experience—not just a select few whose "job" it is.
Companies should measure employees' customer "exposure hours" in non-customer-facing roles. Those who fall below a baseline of, say, two hours every month should be exposed to customers by talking to users, taking support calls, or watching people use the product.
Break the data addiction.
Data-driven insight has become standard practice as a way to assess various aspects of the customer journey. While data indeed has great value in enabling businesses to identify key trends and patterns in buyer behavior, it can't replace seeing, hearing, and talking to customers first-hand to gain insights into their motivations, preferences and decisions.
Interaction with real customers must be synthesized into companies' data-centric digital processes and personas, and inform every aspect of product design, creation and support.
Avoid the "knowledge curse."
Knowledge is great, except for when it leads to a cognitive bias (first identified 30 years ago this year) that occurs when a person knows so much about a subject that they incorrectly assume others have the background to understand it equally well. The knowledge curse can play out in a company when the developers get too close to an offering and lose objectivity over how it will play with customers out in the wild.
This can lead to every company's worst nightmare – discovering after a product is built that it falls short of user expectations. By instilling independent human insight throughout the development process, organizations can break this curse.
Empower product managers with human insight.
Product managers are always on the hot seat, responsible for many of the dynamics that decide a product's success or failure. By making a relatively small investment of time and money in human insight, product managers can validate decisions before spending cycles in development.
This should include live customer interviews before design starts, quick validation of prototypes and sketches, continuous verification during development to validate decisions and reveal problem areas, and post-launch gathering of human insight to act as an insurance policy against any issues with the product that weren't uncovered earlier.
Take advantage of technology.
Businesses should leverage technology—video, live interviews, and other research studies—to continually interact with customers. This feedback loop should become part of the brand's lifeblood. Think of it as a virtuous circle in which one desirable outcome from human insights leads to another and drives continuous improvement of the customer experience.
By following these five steps, companies can make sure they're doing everything possible to truly empathize with customers. Remember: You can't delight them if you don't understand them. Empathy is everything.
Andy MacMillan is CEO of UserTesting.