Data, Warm Cookies and Capturing Digital Media: Hilton's Global Marketer
When it comes to mining all the data marketers have access to, it always comes down to which data is the most important to tap into to be able to connect with the specific consumers you're working to reach.
For the DoubleTree by Hilton brand, the number of warm chocolate chip cookies guests receives upon checkout is just one.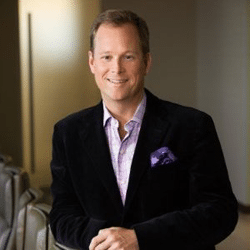 Hilton's Vice President of Global Marketing, H. Stuart Foster, told AdExchanger that standard demographics like gender, age or race don't play a role in marketing decisions. Rather, what comes into play are data insights like travel motivation, whether a guest dines in a DoubleTree restaurant and what types of hotels a guest stays in outside of the DoubleTree/Hilton brands.
Earlier this month, the brand launched the Your Warm Cookie Awaits experiential campaign using a mix of channels, including three areas of digital.
One is billboards in major cities like New York where a contest plays out for a chance to win a free night's stay. People who capture an image of a "warm chocolate chip cookie" dropping through a box can submit it on social media.
Through paid social, another engagement encourages people to capture moments in which they, or others, are making the world a more welcoming place and to share those images on Instagram or Twitter using the hashtag #sweetwelcome. Four winners get two complimentary hotel nights—and one grand-prize winner will be awarded a week-long stay—at any of the 500+ DoubleTree hotels across the globe. And, of course, 50 runners up will receive a package of the signature DoubleTree Cookies.
Actress and philanthropist Monique Coleman joined the brand in Boston as a supporter of the initiative and to share the warm DoubleTree Cookies with new U.S. citizens to help celebrate their milestone moment.
Foster also talks about "straight-up" digital marketing and DoubleTree's strategy for programmatic buying.
Related articles:
The Third Wave of Digital Marketing: Embracing the Human Element
The Digital Crossover Between Marketing and Technology