B2B:Chicago Launches Debut Event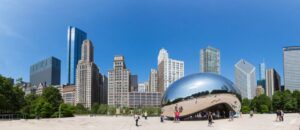 B2B:Chicago, a new association for B2B marketing professionals, will host its first event in Chicago next month.
The inaugural event on April 3 at the W Chicago-City Center will be a networking/educational seminar featuring Israel Alguindigue, senior vice president, industrial practice and Andrew Grygiel, head of marketing at Chicago-based predictive analytics start-up UPTAKE.
The new group is the brainchild of Gary Slack, CEO of the agency Slack & Company. Slack is the former national chair of the Business Marketing Association, now ANA Business Marketing (the ANA acquired the BMA in 2014), and for several years he organized the BMA's annual conference. He feels that the Chicago chapter had been somewhat inactive in the last year or so, leaving a vacuum for B2B professional networking and education in the region.
"Chicago used to be the most active chapter in the BMA network, so it was utterly shocking, because there is a vibrant B2B marketing community in Chicago," he says.
In December, he wrote a blog post announcing his intention to start a new group.
"The former BMA and, with exceptions, its 20 or so chapters have not fared well under ANA ownership, IMHO," he wrote. "As a past national BMA board and executive committee member, an early booster of combining forces with ANA and then fairly quickly the transaction's most vocal critic, I deeply miss what has been lost."
Slack says 35 B2B marketing professionals—including several ANA Business Marketing – Chicago board members—have stepped up to serve on the B2B:Chicago advisory board, representing numerous high profile companies such as UL, Caterpillar, CDW GE and Grainger.
Initially, the new group will not be a membership organization, but will hold monthly events, skipping June to avoid scheduling conflicts with this year's ANA Business Marketing annual conference, June 6-8 in Chicago.
"We're not looking at the ANA as a competitor, we just want to fill a vacuum," says Slack. "A lot of the reason I'm doing this is to provide community, education and networking opportunities to B2B marketers. For me personally, I run a service provider, so the opportunity to bring staff, clients and prospects to a monthly luncheon with B2B speakers is invaluable."
Andrew Miller, vice president of global marketing and communications at Aon and current president of ANA Business Marketing – Chicago, says he welcomes the new organization as a contributor to the Chicago marketing community.
"The more attention to the importance and expertise of B2B marketers the better, as this is a very robust and diverse business space," says Miller. "Guests at our events routinely attend all kinds of marketing-related events in Chicago—and across the nation—and we believe that actually helps to foster value in our growing network."
The recent slowdown of events by ANA Business Marketing—Chicago was "by design," says Miller, to give the group time to reimagine its approach while the ANA retired the BMA branding. Upcoming events for 2018 include a member dinner this week and a seminar on the "Battle for Truth & Trust" on April 11, featuring speakers from Edelman, LinkedIn and BPA Worldwide.
Related Articles:
3 Reasons Why FCB Chicago Won the Most Prestigious 2017 PRO Award
PRO Awards Confidential: Why Aramark Won B2B Gold (And How You Could Too!)