PRO Awards Confidential: Why Aramark Won B2B Gold (And You Could Too!)
Captivating creative, interactive campaigns and stellar results. This is what the top B2B winners in last year's PRO Awards all had in common.
As the deadline for this year's competition draws close (enter now—Friday, March 23 is the deadline), here's tips you can steal for your own shot at PRO Awards glory.
Tip #1: Use video to build awareness—and sales.
Aramark isn't exactly a household brand, but people all over the country have utilized their food, facility, hospitality and uniform services at schools, stadiums and numerous other venues across the country.
New client Yosemite National Park provided Aramark with the perfect opportunity to build a campaign that would showcase their work for potential clients—and win PRO Awards gold.
To capitalize on all the attention the National Parks Service was about to receive surrounding its centennial, Aramark created videos explaining the services it provides to various parks beyond food and uniforms, such as running tours, creating waste-management programs, and implementing water-conservation efforts.
The videos were integrated into social channels, and sales and marketing teams were trained to use the content as a jumping-off point for initiating or continuing discussions with prospective customers. Programmatic technology helped target specific business niches.
On August 25 along, the National Park Service Founder's Day, Aramark's Facebook ad was viewed by more than 1 million people, making it the most-shared post in the company's history. During the campaign Aramark's website traffic was up 15% year over year, while the number of leads rose 25%.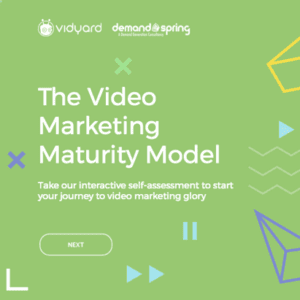 Tip #2: Engage prospects with interactive content.
To drive leads and build prospect profiles, video platform Vidyard partnered with SnapApp to create the Silver PRO Award winning Video Maturity Model.
A two-minute assessment was created to outline four stages of video maturity, from beginners just starting to use video, to masters effectively utilizing both internal and external video teams. SnapApp was integrated with Vidyard's instance of Marketo to feed the data into Salesforce.
After a first touch, users were invited to take the 15 question assessment via email, social, SEM and content marketing initiatives. They could then fill out a form to get their "video marketing scorecard," and could watch a video about their rank. The Vidyard sales team was routed qualified leads from the campaign and followed-up to offer actionable advice. Anyone that sales didn't follow up with was added to an email nurture program.
The 2-minute assessment had 2,890 unique views, 811 form submits, and a completion rate of 67%. The campaign in its entirety has generated more than 1,000 inquiries and over 800 qualified leads for the sales team, and influenced more than $650,000 in qualified pipeline and over $100,000 in closed revenue within 3 months, with a less than $10 cost per lead.
Tip #3: Inspire with multichannel, integrated content.
Microsoft faced the challenge of driving registrations for the five day Ignite 2016 event in Atlanta via demand gen, with no paid media. The integrated nurture campaign over the 10 months leading up to the event did just that, and snared the B2B bronze PRO Award.
A strong focus was placed on timely messaging and relevant themes delivered through owned and earned channels, with a plan built around event milestones and available content. Registration toolkits were created for internal and external teams, sales teams, company partners, event sponsors, and registered attendees.
A full audit of all Microsoft Ignite social channels established best practices and created a strategy to build engagement. A campaign theme and style guide for the 2016 event was created and used not only for social and digital advertising but a direct mail "ninja papercraft" design as well, to generate organic buzz.
Email was the best performing tactic at driving registration. Via social, the community responded well to a cast of recurring characters designed to surprise and delight, so the audience was invited to choose their favorite to grace the official event T-shirt.
Nearly two months before the event, 23,000 attendees were secured, making 2016 Microsoft Ignite event the largest in-person Microsoft event of all time.
Are you inspired yet? Enter the 2018 PRO Awards competition now!