7-Eleven Turns App Development Over to Customers
7-Eleven's approach in app development is what many retail marketers expect, to create utility for customers to find stores, use digital coupons and to serve promotions and special offers. But where this convenience retailer takes a turn is a new feature that allows users to filter a search for key products and services that works in conjunction with the app's store locator. And in it's latest innovation customers are asked to submit suggestions to shape the design and functionality of future app features.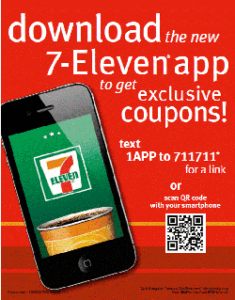 The search function let people parse 7-Eleven locations by items they are specifically looking for, like hot foods—chicken, pizza and egg rolls for hungry kids in the back seat—beer, wine, a Redbox, lottery, ATM, diesel fuel or propane, even whether food stamp payments are accepted.
"The app now has functions that work for users on a more local level, which really elevates the fact that they can search for items at different stores," Steve Holland, chief technology and digital officer, at 7-Eleven said. "Most retail organizations in our space show general information but are not getting down to the level of detail to actually solve a consumer's problem."
7-Eleven also uses information like, weather, location and time of day to customize the experience through information collected during the registration process, including opt-ins to location-based services, like FourSquare and Facebook Places.
"If it's a hot day we might offer cool drinks, if it's morning we would offer breakfast," he said. "By taking those dynamics and configuring them to who you are provides a much better experience to the user."
The apps initial capabilities were selected based on comments received from 7-Eleven Facebook fans with mobile couponing the top request.  The app has been downloaded about 100,000 times since the February launch, with that number increasing by the thousands each week.
"It's local marketing," Danielle Ivey, 7-Eleven's senior manager of digital marketing, said. "It provides a guest a convenient experience in their location and generates a stronger connection between the store and our guests. We want to be more relevant and personal."
The Idea Hub
7-Eleven's latest technological wizardry of its app, the Idea Hub, lets customers speak their minds, sharing ideas about what functions they would like to see built into the app to enhance its usefulness.
Suggestions are submitted in four categories—general, stores, events and coupons, then voted on and sorted by the most recent or most popular allowing the 7-Eleven app development team to prioritize its work for future feature releases. So far, the top suggestions include mobile payment capabilities, more coupons, store reviews, a loyalty program, nutritional information and local gas prices.
The app is being marketed across all of 7-Eleven's channels, including radio, print, in stores, a large-scale digital campaign, gaming networks and, most recently, large counter cards—with an incentive to receive coupons if they download the app. 7-Eleven also partnered with product suppliers to advertise its app, featuring free or value prices on popular products.
A new innovation team
A little over a year ago, 7-Eleven put together an innovation group to conduct lots of trial and error and exploration and proof of concept around digital and consumer interactions on digital assets. The Idea Hub is an example of the group's work.
"We decided to place large bets in the innovation area," Holland said. "The shopper is much more focused, has more power and decision making and less time, so formulating the right innovation was very, very important for us."
The group focuses on three major areas:
The digital guest experience to digitize and enable merchandising and marketing in connection with customers and to expand on those capabilities.
New business development focuses on e-commerce—and some m-commerce.
Innovation around new fresh food products by transforming its store to offer more fresh and hot foods.
In March, the innovation group traveled to 2013 South by Southwest festivals and conferences in Austin where it challenged attendees to come up with ways to improve 7-Eleven's mobile experience. 7-Eleven was the featured project of  HackATX hackathon, a 12-hour competition pitting top technology minds to create a new mobile tool for 7-Eleven.Winner Sean Devlin focused on the 70% of the world's population still using feature phones to create a text-message program that enabled non-smartphone-using 7-Eleven fans to access the app's most popular features. The retailer partnered with T3, an Austin, TX–based digital advertising agency, which also sponsored this year's hackathon, to develop the app framework.
Next month, the 7-Eleven App releases in Canada, where the company operates close to 500 stores.