Whales, Covered in Plastic, Rise from the Streets of Zagreb
Greenpeace has launched a campaign to raise public awareness about the enormous amounts of plastic waste in the oceans and seas.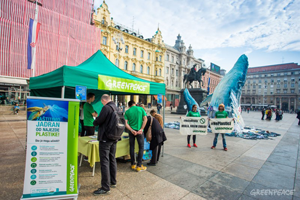 A large sculpture of two whales appear to rise from the streets of Zagreb, Croatia. Plastic sweeps up in the waves of water rising around them. The two whales—10 and 20 feet—were made by Italian Greenpeace activists and are covered in plastic shopping bags. Experts have said that each individual plastic shopping bag has a 15-minute shelf life.
The group's goal is to drive home the point that there is a "lack of responsibility in the management of plastic waste in Croatia," despite the fact that a European directive was recently adopted on disposable plastic bags, Croatia Week reported.
"We want to encourage the Ministry of Environmental Protection and Energy to pledge for more ambitious measures of the Directive and its implementation in the shortest possible time," Petra Andrić, head of the Greenpeace campaign told Croatia Week. "Certainly there is a special responsibility for the manufacturers and companiesthat market the market huge amounts of plastic packaging and one-off plastics in general."
Numerous brands have joined the fight to reduce or eliminate plastics from the waste stream.
---
More on Corporate Social Responsibilty:
---
Earlier this summer, Bacardi joined with nonprofit Lonely Whale, to try to eliminate 1 billion single-use plastic straws by 2020. Two years ago, Bacardi began the #NoStraws campaign and in 2017, Lonely Whale launched the Strawless Ocean initiative to remove 500 million plastic straws from the U.S. waste stream.
Under the new co-branded campaign, the message will be passed on to consumers through a series of corporate and brand collaborations, events, and calls-to-action around the world. Bacardi will promote social conversation and action through the hashtag #TheFutureDoesntSuck.
The campaign formally kicked off in London this summer supported by a series of illustrations that communicate the devastating impact of single-use plastic straws on the world's oceans, the companies said. Images of turtles with straws stuck in their noses and a seahorse drifting on a Q-tip as if it were a reed have helped put a spotlight on the need for massive and immediate change.
At the time, Bacardi also announced a commitment to review its global supply chain, with the aim of removing non-essential, non-recyclable single-use plastic waste.