Is Voice Technology the Next Big Disruptor?
It was just a few months ago that Google and Target released a voice-activated coupon, a first using Google Assistant.
People who activated the time-sensitive offer through Google Assistant could get $15 off their next Target order on Google Express.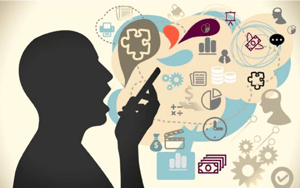 Another brand, Mastercard, said this week that it is looking into integrating its payments system into voice assistants made by Google and Amazon, which would enable its cardholders to pay by voice.
A 2018 BrightLocal study had good news for local businesses wanting to try the technology. Fifty-eight percent of consumers have used voice search to find local business information in the last 12 months and 46 percent look for a local business on a daily basis.
"What consumers want most is to be able to use voice search to make reservations, to hear business prices and to find out which products businesses have," BrightLocal said.
Forbes writer Steve Olenski wonders whether voice technology might just be the next star of marketing and how, or if, they should be using it. He cited stats from Search Engine People that 20 percent of mobile searches done on Google use voice. Even more impressive 50 percent of Smartphone uses put voice assistants to use weekly, Forbes says.
---
More on Voice Technology
---
Olenski spoke with several experts about voice who gave detailed comments about the technology and its uses by marketers. Here's a short list of their comments.
• Voice will be the next big disruptor
• The tech gets marketers closer to the customer
• Marketers need to get a better understanding of how consumers want to find them in voice
• Voice technology will become a utility
• Voice can be paired with visual platforms
• Content tied to voice will need new thinking and strategy
Share your thoughts at @CM_ChiefMarketer