Vans Skateboarding Clinics Celebrate Girls
Earlier this week, at the Vans Skatepark in Orange, CA the "Get On Board" weekend kicked off celebrating women's skateboarding.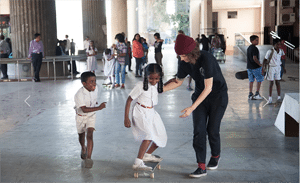 Activations for the street wear brand included a bundle of activities including a photo gallery of women's skating, button making, lessons on how to build skateboard ramps, manicures, food and plenty of amazing skateboarding. Last Saturday, for the women's Combi Bowl contest, and for the first time, Vans put up the same prize purse for the women that they do for the men.
Vans recently marked International Women's Day—March 8—with its "Girls Skate India" campaign, where it inserted the brand into Indian female skateboarding, a popular, but little-known sport. The event was the first of what will be 100 international clinics that teach women and girls how to skateboard and to showcase the sport to new audiences in cities like Brooklyn, Chicago, Bangalore, Sao Paulo and Mexico City. Vans' athletes Lizzie Armanto and Atita Verghese participated in the event.
"Vans has been engaging with creatives around the world for more than 50 years. Whether it's making the first shoes for skateboarders, building skateparks, hosting concerts, or putting on art shows, we love how creativity brings individuals together where they can learn from and inspire each other," Jamie Reilly, Vans vice president of global creative, said in a blog post.
Girls Skate India was the next chapter of Van's global campaign, "This is Off the Wall," launched in 2017. The campaign spreads its message through a diverse set of stories to spotlight various forms of creativity that the brand has always supported. This year, it takes a closer look at creative communities around the world through a comprehensive campaign of video content and activation platforms that share Vans' pillars of action sports, art, music and street culture, while inviting all consumers to participate.
Related articles:
Winter Olympics 2018: Brand Experiences from PyeongChang and Beyond